Although Salman Khan started the trend of flaunting a well-muscled body in Bollywood, Shahrukh Khan has beaten the Kick star to it.
According to a recent poll, SRK wins the best abs in Bollywood, beating the Kick star and Amir Khan, by a considerable margin.
A poll conducted by HealthSite, resulted in a total of 145,815 votes, with SRK getting 75,350 votes (51.68%), Salman Khan getting 67,944 votes (46.6%) and Aamir Khan managing just 2,521 votes (2%).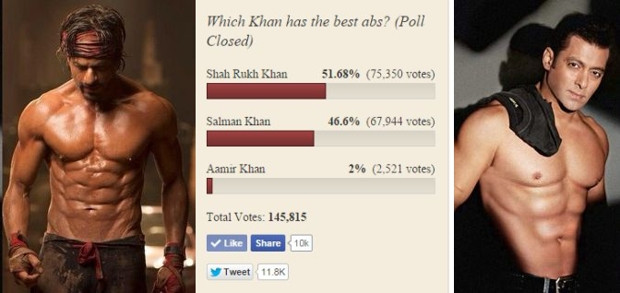 There was a lot of speculation about SRK's eight-pack body after photographer Daboo Ratnani posted a shirtless photo of the actor on Twitter. A lot of Salman's fans cried foul and speculated that the image was photoshopped as according to them SRK is not capable of building such a physique.
Always A Pleasure! Love U "@iamsrk: And this one is by @DabbooRatnani .Thanx my friend. Farah don't exploit me nymore pic.twitter.com/FriaMAdSaY

— DABBOO RATNANI (@DabbooRatnani) September 7, 2014
Eventually, Red Chillies posted an official video of Shahrukh's abs workout in a 42-second teaser, shutting down all the fake body speculations.
Watch the video.
Previously, a video of Salman Khan's body from a scene in Yash Raj films' Ek Tha Tiger special effects put up by a user on Vine went viral. The video shows the flabby body of Salman Khan being digitally worked on to give him the abs that are required for the final look of the movie.
Watch the video.
However, fans defended the star saying that he was "not well at the time of 'Ek Tha Tiger' shoot."
Previously, Salman praised SRK for his hard work and dedication at the gym, admitting that his abs are in fact real.
Sallu stated that he thinks that SRK's abs are "hundred percent genuine" after being asked what he thought about his rival's body.
He said, "It is not a fake 8-pack. He has become really ribbed. In fact that picture that you see is not even touched up picture, it's a raw picture. I am really impressed with the way he is looking right now. He is really fit.
"It takes a lot of hard work to get into that shape, and I know because I do that kind of work. And it takes a lot of hard work to get that ribbed. And there is nothing fake about that. It is hundred percent genuine," continued Salman.
Whose abs do you think are better - Shahrukh Khan's or Salman Khan's?
Let us know your views in the comments section below.