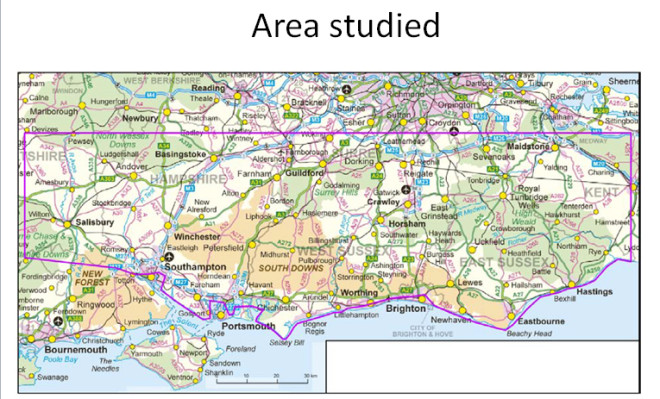 A British Geological Survey study predicts there could be as much as 8.5 billion barrels of shale oil in the ground beneath a large part of south England.
BGS said its research concludes that there are between 2.2 billion and 8.5 billion barrels in the ground at the Weald Basin, with a "reasonable" central estimate of 4.4 billion.
Counties above this include Kent, Sussex, Hampshire and Surrey, the Conservatives' political heartland.
"It should be emphasised that this figure refers to an estimate for the entire volume of oil in the rock, not how much can be recovered," said the BGS.
"It is still too early to determine how much could technically be extracted at a commercial rate.
"In time, drilling and testing of new wells will give an understanding of achievable, sustained production rates."
In a separate 2013 study, the BGS found 1.3tn cubic feet of shale gas reserves lying under Yorkshire and Lancashire.
Just 10% of which could fuel the UK's gas supply for four decades – assuming it can be extracted.
To encourage exploration the government announced a funding package for communities where exploration and extraction takes place, in order to win public support.
Every affected community will get £100,000 and 1% of revenues from the unconventional gas that is successfully extracted. Firms must also sign up to a community engagement charter to ensure locals are continuously consulted about any work planned.
Alongside the BGS study of the Weald, the government announced it is consulting on giving energy firms the right of access to operate for 300 metres and further beneath the ground – meaning they would not need permission from the landowners above.
Communities would then receive a further £20,000 per well running beneath them and a "clear notification system to alert them".
"These proposals allow shale and geothermal development while offering a fair deal for communities in return for underground access at depths so deep they will have no negative impact on landowners," said Business and Energy Minister Michael Fallon.
To encourage shale gas exploration, the government has also put in place a number of tax breaks for the industry.
Critics say the hydraulic fracturing – fracking – process to extract shale gas is dangerous because there is a risk that the chemicals could leak out and contaminate the water supply.
The government insists that the risk of this is minimal because it operates a strict licensing and regulation regime.
It is keen to encourage shale gas production because it could lead to thousands of new jobs and bundles of tax receipts flowing into the Treasury.