[This article contains spoilers]
MTV's popular teen horror series Scream continued on Monday 6 June, with the latest episode propelling the story forward significantly as tensions rise, as does the body count. Viewers following the show saw Emma's father rock up to Lakewood once again, pleading with his daughter to let him help her as he "knows what she's going through," while at the same time, Noah came dangerously close to exposing Audrey as the second killer from the events of last year when a hotel owner tipped him off.
In addition, while frantically attempting to cover up her trail, Audrey discovered Jake's body in a storage garage with a personal note to her left pinned to his chest and Kieran's family decided that they would move into his father's house so that they could take better care of him. However, they certainly seem to have some secrets of their own.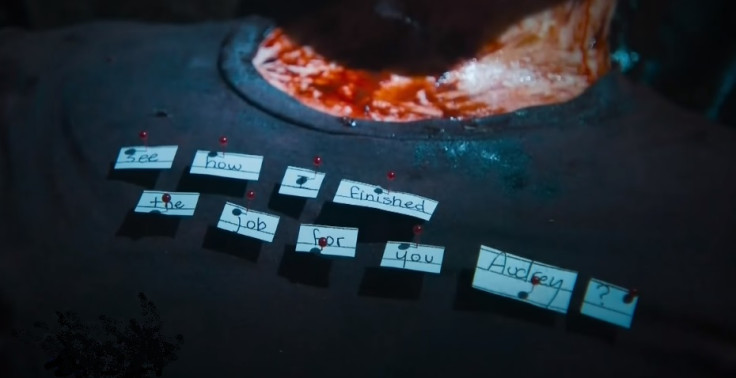 Unfortunately, the promo video for next week's episode doesn't give all that much away and largely focuses on specific plot points revealed in episode two, what with Emma trying to find some common ground with her estranged father and the killer still pestering the Lakewood Six. We also get further glimpses at new characters Eli, Kieran's cousin and the mysterious son of Sheriff Acosta Gustavo. In the clip, Eli is seen chatting to Emma and Kieran about her father being back in town, before he states with eerie confidence: "My dad left us. If he showed up now, I'd probably punch him in the teeth," while later, Gustavo poses a question to a nervous-looking Noah.
"What if you do find someone?" he states, referring to Noah's growingly desperate intentions to find out whether the first season's killer Piper Shaw had an accomplice. Now that the new faces in town are well and truly involving themselves in the existing group, who can really be trusted?
Audrey can also be seen in the clip, still in the garage, asking the prospective killer on the phone: "How could you do this to Jake?" A seemingly innocent question from her end, however her tone, and the fact that she named her former foe personally could hint to audiences that she knows who could be behind these fresh new killings – and it could be someone they all are familiar with!
The official synopsis for the upcoming episode entitled 'Vacancy' – following on with the trend of naming each instalment after classic scary movies – suggests that it will see Emma struggling to deal with her father's return as Audrey is forced to face her own past in other ways, when her stalker steps their fun and games up a notch to murder. Meanwhile, the gang's former teacher Seth Branson (Bobby Campo) makes his way back to Lakewood, causing Brooke to question his intentions.
Scream continues on Monday 13 June on MTV at 8pm PT. The third episode will also upload to Netflix UK the following day.
For more entertainment news follow A-List on Twitter @Alistinsider