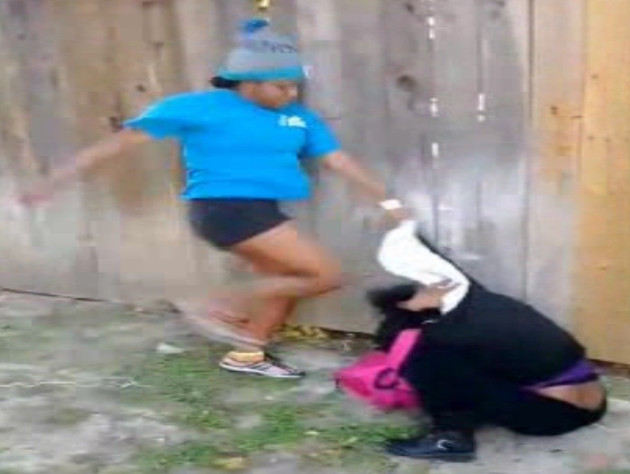 A video showing a girl named Sharkeisha beating another girl has gone viral on the internet, racking up thousands of views.
On Tuesday night around 10:30 EST, the video jumped from 12,000 to 20,000 "favorites" in a matter of minutes, which is when it was taken off Instagram.
In the video, which has been now banned from Instagram, you can hear Sharkeisha's shocked friend yelling at her, "Don't kick her, Sharkeisha!"
The video stayed on Instagram for nearly a full day, even though the site does not allow violence. Its terms of use state that users "may not post violent, nude, partially nude, discriminatory, unlawful, infringing, hateful, pornographic or sexually suggestive photos or other content via the Service."
A Twitter user called The Queen Sharkeisha purporting to be the villain of the video is reveling in her new-found notoriety. The user tweeted on 27th November:
"IM TRENDING IN AFRICA!!!! I DIDNT EVEN KNOW THEY HAD INTERNET THERE I FEEL FAMOUS"
On November 26, Queen Sharkeisha (formerly Sharkeisha Boss Ass) had some 400 followers. By the evening of November 27 she had 25,000 and counting.
However unconfirmed reports suggest that the assailant has now been arrested, after her video came to the attention of the authorities.
The Queen Sharkeisha Twitter account tweeted several times about police closing in on her, knocking on her door and calling her house.
On 28th November, her tweets included: "wtf the police knocking on my door and s**t" and "OMG IM IN SOOOO MUCH TROUBLE"
World Star Hip Hop has the full video, click here to view it.
READ: Sharkeisha Fight Video: Violent Sucker Punch Turned Into Internet Memes [VIDEO]
Who is Sharkeisha? Six Facts About The Sucker-Punching Teenager