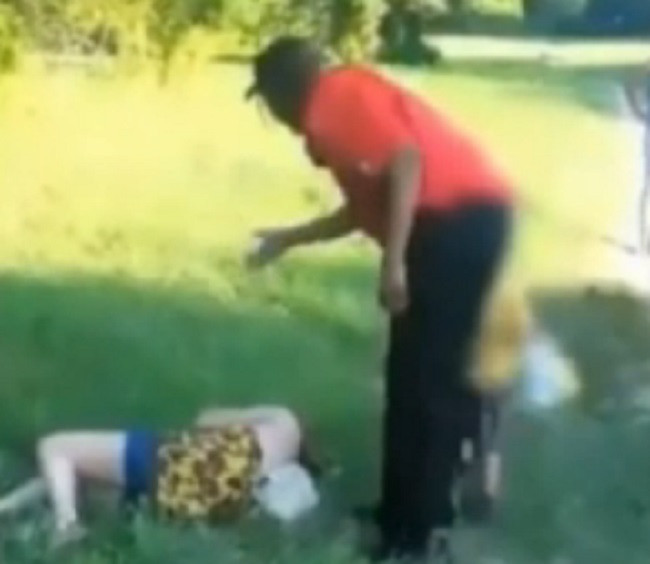 Police in Massachusetts are hunting a woman who brutally beat a mother in front of her child.
Disturbing footage has emerged showing the attacker, now identified as Latia Harris, kicking and hitting the woman on the ground while the victim's toddler begs for her to stop.
"Police in this county deal with this type of violence every day. Yet, this video is physically sickening to watch," Salem Chief of Police John J Pelura III told Sky News.
The video was recorded by a bystander, who was one of many who pulled out their phones to witness the attack but failed to intervene.
Pelua added it was sad that those who recorded the fight did nothing to stop it, describing it a "moral and social breakdown in the fabric of our society which is clearly evident when a woman gets pummeled in broad daylight in front of her child while a dozen people pull out their phones to record the incident instead of calling for help".
Harris will face charges of aggravated assault and two counts of making terroristic threats when she is arrested.
Officers were called to the scene at 7.10pm on Tuesday. The unidentified victim, aged 27, told police Harris worked at a nearby McDonald's Restaurant in Salem and was accusing her of spreading rumours about her and her manager.
She is seen being punched at least 20 times by Harris, who then threatens to kick her son in the face.
The victim was later taken to The Memorial Hospital in Salem for further treatment.
The attack is reminiscent of a video that went viral showing a girl named Sharkeisha beating another girl. It was on the social media network for a full day before it was taken down. In the video you can hear Sharkeisha's shocked friend shouting: "Don't kick her, Sharkeisha!"