Escaped "Shawshank" killer David Sweat has been told to give himself up to authorities, believed to be closing in, or risk being shot dead like fellow escapee Richard Matt.
Sweat, 35, who escaped from the top security Clinton Correctional Facility with Matt on 6 June, is thought to be hiding in the densely wooded area between the small towns of Malone and Duane, a few dozen miles west of the prison in Dannemora close to the Canadian border.
On Friday, Sweat's fellow fugitive, Richard Matt, was gunned down near a cabin in Duane after opening fire on a campervan. No-one was injured. Police traced him back to a cabin where they smelled gunsmoke, then heard someone coughing outside. Matt was warned to surrender, failed and was killed. A 20-gauge shotgun was found nearby.
"They verbally challenged him, told him to put up his hands. And at that time, he was shot when he didn't comply," said New York state police superintendent Joseph D'Amico.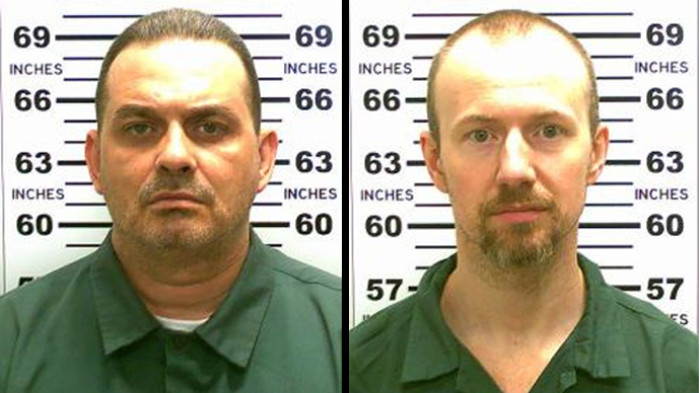 Now, with his accomplice dead, pursuing police believe Sweat will find it even more difficult to evade the law.
"Now it's a one-man show and it makes it more difficult for him," said Clinton County Sheriff David Favro, "and I'm sure fatigue is setting in for him as well, knowing the guy he was with has already been shot."
Matt and Sweat escaped by tunneling through pipes and brickwork at the prison, leaving a mocking note for officers. Prison officers Joyce Mitchell and Gene Palmer have both been charged with promoting prison contraband and other charges but have pleaded not guilty.
Police warn that Sweat is extremely dangerous and should not be approached.
"Mr Sweat, if he has the opportunity, we believe he will arm himself," said Franklin County Sheriff Kevin Mulverhill.
"I'm sure there are a number of camps out there that they spent the night in or they've broken into that haven't even been reported yet. Could they have come across another weapon? Absolutely. We're certainly not discounting that."