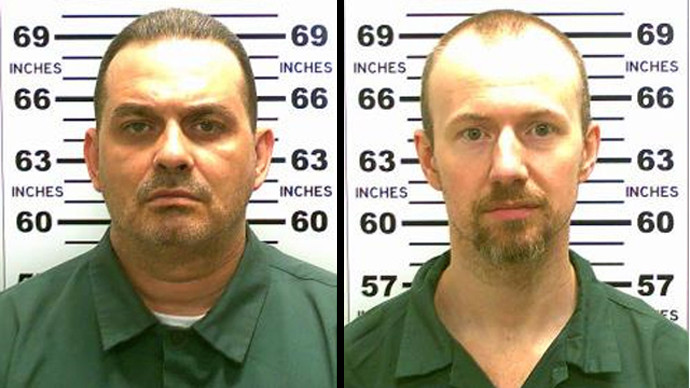 A prison employee, who is believed to have helped two convicted killers escape from a maximum-security facility in upstate New York, has been arrested. The 51-year-old woman, Joyce Mitchell, was charged with a felony and a misdemeanor, New York State Police confirmed on 12 June.
Mitchell was allegedly tasked with being the escaped convicts's getaway driver, but instead ended up at a hospital to be treated for panic attacks, Clinton County District Attorney Andrew Wylie told the Wall Street Journal.
"Each day, Joyce has come to us," Wylie said. "She has been co-operative. Each day we learn more information from her relative to her involvement in the investigation, the timeline of events."
Police continue to search for 34-year-old David Sweat and 48-year-old Richard Matt, who escaped from Clinton Correctional Facility in Dannemora, New York on 6 June.
According to the Wall Street Journal, Mitchell was charged with a felony for promoting prison contraband and with a misdemeanor for criminal facilitation. Mitchell, who worked in a prison tailor shop, is not believed to have given the two power tools but she may have provided them with other contraband items.
Where are they? That's the major question
Wylie told reporters that investigators are looking to see if Mitchell's mobile phone was used to contact the fugitives's associates. He added that Mitchell's husband, another employee at the hospital, has not been interview yet but has not been ruled out as a suspect.
For now, however, Wylie said police were focused with finding the escapees, who have managed to evade capture for nearly a week. "Where are they? That's my major question," he said. "We're working on the how — how it happened."
The Wall Street Journal reported police dogs continued to track a scent police believed would lead them to the fugitives. "We're very hopeful that they're in the area," Wylie said. "We're very hopeful that we're able to take them into custody without any of our community members being hurt or any of our law enforcement officers being hurt."
According to CNN, if convicted Mitchell faces up to eight years in prison. The New York State Department of Corrections and Community Supervision announced she had been suspended from her job without pay.