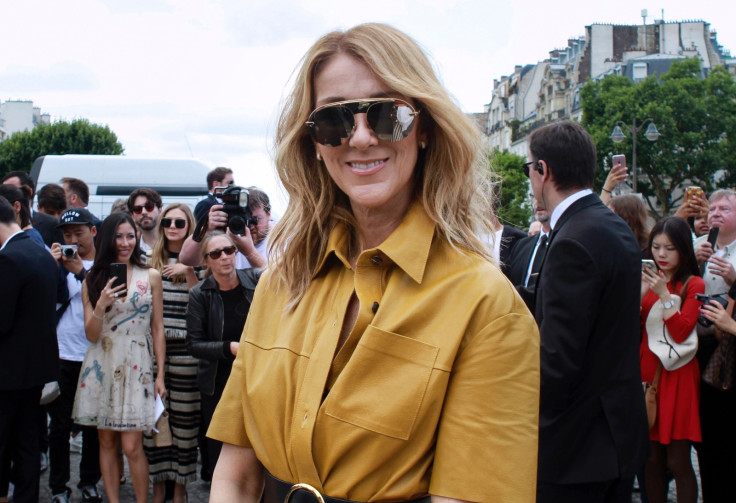 Celine Dion has posed for her most revealing photo yet. The Power Of Love singer has gotten naked on Instagram for Vogue magazine and fans are going wild over the image with one describing Dion as "the definition of a woman".
Shared on the Fourth Of July, the snapshot shows Dion, 49, sitting on a chair in sparse room with one leg raised over the other, protecting her modesty, and a towel covering her cleavage. The only piece of clothing seen is one thigh-high glittering gold boot on the floor next to the superstar.
In the caption, Vogue have published a mini essay sharing intimate details of the operation behind designing the gowns which Dion wears on her long-running Las Vegas residency at The Colosseum.
The magazine reveals: "Here's a little naked fact to ponder while Celine Dion changes looks between shows: for the past five years she has worn haute couture near exclusively for her own performances (in Las Vegas and on her current 'mini-tour' of Europe).
"She performs a minimum two hours a night, five or six nights a week, dancing and curtseying and generally gesticulating sans abandon, in handmade, hand-beaded delicacies designed solely to walk a catwalk or a carpet (and often with handlers)."
According to Vogue, high-end designers like Versace, Armani Prive, Schiaparelli and Giambattista Valli then complete the dresses in Dion's private atelier.
The piece continues: "Shoes—always heels, never platforms—are ordered one size smaller (she is normally a 38) and refitted with metal shanks. Says Celine, 'We have to make haute couture industrial." And, more enigmatically: 'The clothes follow me; I do not follow the clothes.' Which is to say: the haute couture, with all its fragility and handcraft, has to perform professionally for Ms Dion."
The piece then recalls an iconic Christian Dior LBD (little black dress) which Dion has worn on several occasions, including the funeral service of her husband Rene Angelil in January 2016. Vogue says: "This is a dress Celine knows well and clearly loves, the simplest evocation of the private luxury of couture and the total antithesis of the red carpet hoopla that attends the union of fashion and celebrity."
Praising Dion's nude photo and sentimental words from the fashion bible, one Instagram user said: "This is a great story, well told. What a fascinating insight into a powerhouse of a person." Another said: "Class, divine voice and power. Such a legend." A third enthused: "The classiest most beautiful definition of a woman. Stunning," while another chimed in: "Best vogue mini article EVER!"
The My Heart Will Go On singer is on currently on a break from her Las Vegas residency to tour Europe, including the UK where she has a string of shows at London's O2 Arena.