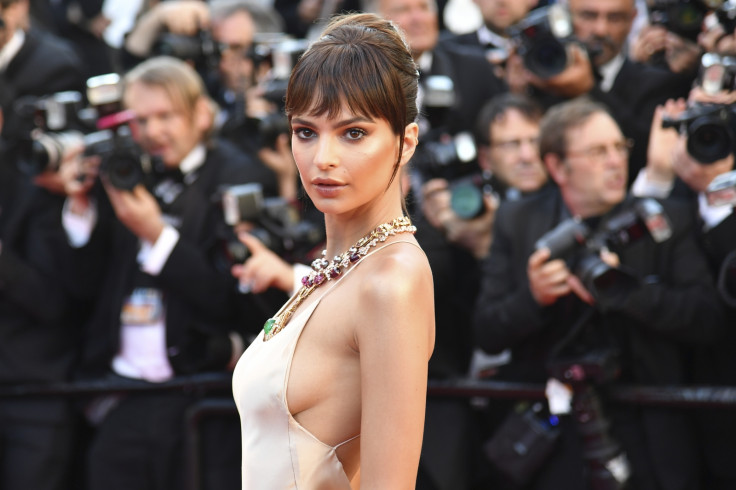 Emily Ratajkowski's latest Instagram post in which she strips down to a racy set of lingerie in order to promote Heidi Klum's underwear brand Intimate has stunned her fans. In the black and white picture taken by photographer Emanuele D'Angelo, the model looks sensuous in a pair of black lingerie that highlights her slender figure.
"Look how hot @emrata looks in my @heidiklumintimates 'Angel Kiss' bra," the Project Runway producer and host gushed about the model's sultry look on the image sharing website. The Ismael's Ghosts actress shared the same image that shows off her cleavage and toned tummy. "Shot at home in LA by @livincool," she captioned it.
"She looks hot hot hot in anything," one fan gushed about her beauty. "You're looking freaking beautiful and phenomenal," added another. "Most beautiful princess from planet Venus," a third one added.
The English-born model and actress is never shy of flaunting her toned figure in skimpy bikinis and has been subjected to criticism considering her views on feminism.
Responding to the constant criticism over her racy Instagram posts, the Gone Girl actress told Vogue in July: "No, I'm not sick of talking about it actually - believe it or not. I'm sick of certain angles of talking about it, but I'm not sick of talking about feminism,"
"If anything, I wish the conversation was more wide-ranging rather than the same, 'How do you have an Instagram with lots of bikini snaps and still call yourself a feminist?' I'm like, that's the kind of question I'm sick of answering, but I'm not sick of feminism or Instagram."