The body of Shia leader Sheikh Nimr al-Nimr has still not been returned to his family more than eight months after his execution on New Year's Day 2016, his son Mohammed al-Nimr, has told IBTimesUK.
Mohammed al-Nimr said that he repeatedly asked the authorities in Qatif, Saudi Arabia, to return his father's body for burial but was told that Sheikh Nimr had already been buried. They would not disclose where, he said.
Sheikh Nimr, who was 56, was put to death alongside 47 others in a mass execution on 1 January 2016. All but five of those executed were Sunni and accused of links to al-Qaeda. His death led to worldwide outrage, particularly in Shia Muslim majority countries such as Bahrain, Iraq and Iran.
"When my family ask for the body they said that they already buried [it] in a cemetery and the location [was] not going to be disclosed. They ask not to be contacted again regarding this matter," Mohammed al-Nimr said.
"We actually don't know what did they [did] to my father before committing the crime of killing him or what evidence are they trying to hide [...] or if they really buried the body or did something else with it."
Sheikh Nimr was a Shia cleric that was considered a pro-democracy campaigner by his supporters but as a dangerous terrorist by Riyadh.
He played a major role in the 2011 and 2012 protests that swept Saudi Arabia's Shia-dominated Eastern Province in the wake of the Arab Spring. He was arrested and sentenced to death in 2014 as a punishment for "waging war on God". His nephew, Ali Mohammed al-Nimr, faces execution having also been sentenced to death.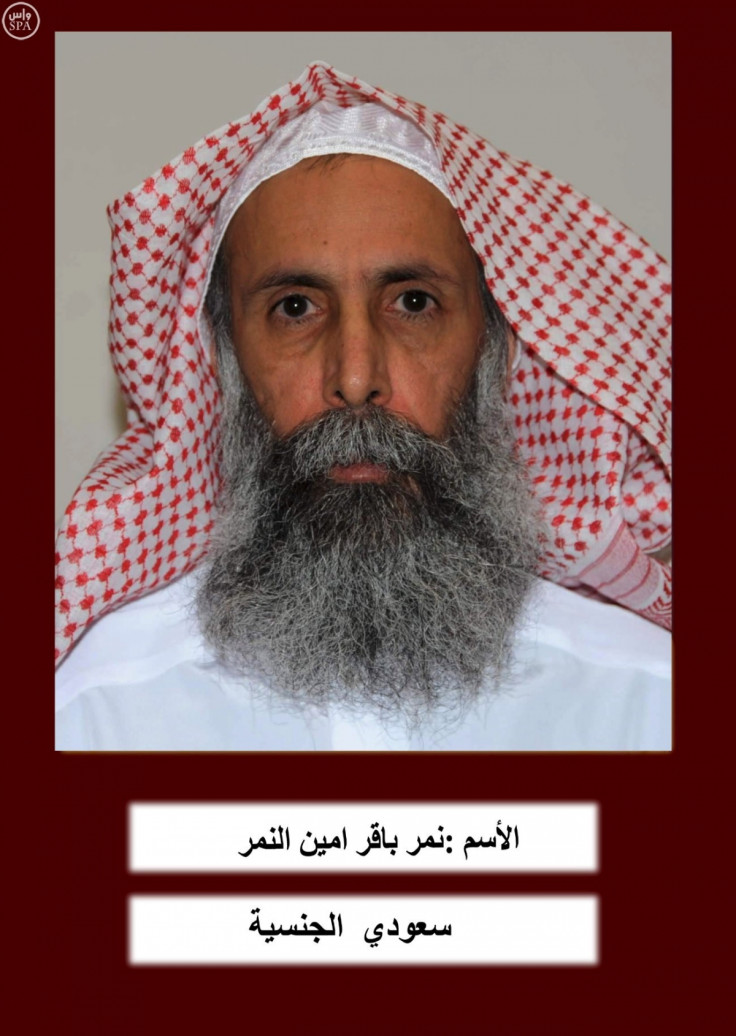 Following the Sheikh's execution, angry protesters stormed Saudi Arabia's embassy in Iran and a war of words erupted between the two regional rivals, whose relationship had been strained by sectarian wars in Syria and Yemen, in both of which they back opposing sides.
But such political considerations are not a consideration to the Nimr family, who wonder whether they will ever be able to give Sheikh Nimr a proper burial.
"My family is devastated [...]. We keep wondering about what really happened to my dad before and after the barbaric crime of killing him and we are disappointed that we couldn't pay him the respect that he deserves with a proper funeral as a human [...]" he said.
Saudi Arabia's embassy in London did not respond to requests for comment by both phone and email on 4 August but Riyadh's rationale for withholding Sheikh Nimr's body could be in order to prevent further violent protests in Qatif or elsewhere.
Amidst the uproar about Sheikh Nimr's death, Saudi Arabia defended its use of the death penalty and its "foolproof legal system" in an article in the Saudi Gazette.
"Three judges look into a murder case in the beginning and their verdict is verified by five senior judges with experience of nearly 25 years. Once they approve, the verdict is further crosschecked by five Supreme Court judges, having the position of an appeal court chief justice, the highest judicial position in the Kingdom," said Sheikh Turki Al-Qarni, a former criminal court judge and a legal adviser.
It was reported last week that Ali Mohammed al-Nimr could be close to death after a pro-Saudi news source claimed that his execution was imminent. The news website and associated Twitter account had previously correctly predicted Sheikh Nimr's death at the end of 2015.