Sheldon tells his mother about 'living in sin' with Amy in new promo of Big Bang Theory season 10
Sheldon and Amy share details about their terrible trip to Texas in the upcoming TBBT episode.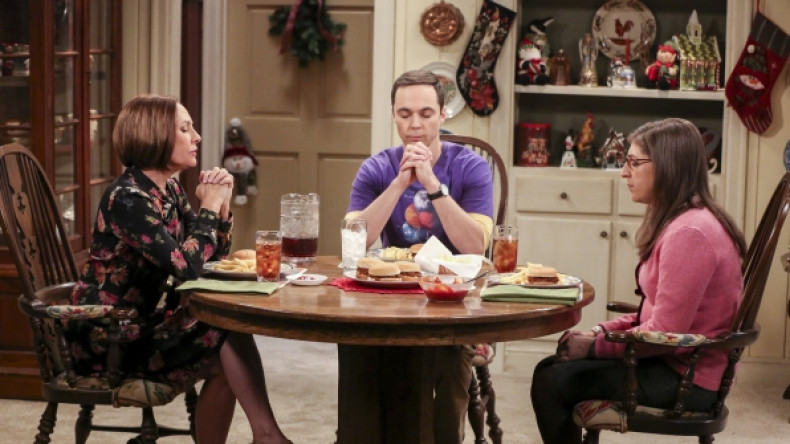 Sheldon Cooper and Amy Farrah Fowler have been living together for some time now. The new promo for The Big Bang Theory season 10 episode 12 shows Sheldon finally telling his mother about his living arrangement with his girlfriend.
Actress Laurie Metcalf returns as Mary Cooper in episode 12 titled, The Holiday Summation. The promo opens with Sheldon complaining to Leonard about the mistletoe in the apartment, as the voiceover says, "We are starting the new year with the biggest big bang. So bring out the noisemakers and break your resolutions."
The scene then shows Sheldon and Amy at the dinner table praying with Mary, as the physicist announces, "Amy and I are living together in sin like a couple of New Yorkers". The video also shows Sheldon getting his ear pierced, and Howard and Bernadette coping with becoming new parents.
Showrunner Steve Molaro spoke to The Hollywood Reporter about the changes in the group dynamics, following the arrival of Howard and Bernadette's baby, named Halley, in the mid-season finale.
Moralo said, "The baby is there and asleep in Leonard's room and they bring the baby in. The baby is very much a part of Bernadette and Howard's story that they're telling off in the background. But as far as the group dynamic goes, that's the fun part of this. That's where we get to explore and see what will happen eventually when Sheldon is alone with this baby.
"I don't know when that's going to happen but it will be interesting to watch how it affects all of their dynamics in those episodes where we have the baby. It's also just as easy to go back to work and somebody is taking care of the baby and it's Big Bang as usual."
The Big Bang Theory season 10's The Holiday Summation episode will air on 5 January at 8pm EST on CBS Network. The official synopsis for the chapter reads as follows:
Sheldon and Amy visit Leonard and Penny for the first time since the holidays and share details about their terrible trip to Texas, on The Big Bang Theory.