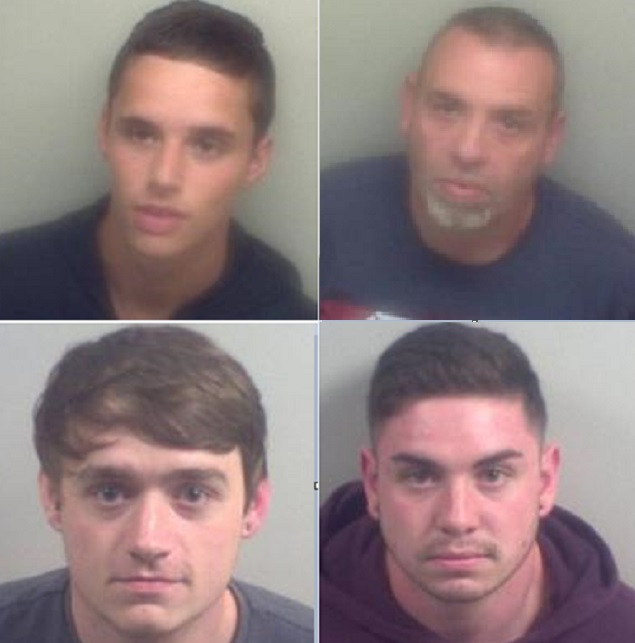 A teenage boy and four men have been jailed for a total of 83 years after beating a man to death on a Sheppey beach.
Ritchie Zborowski, 16, Mark Terry, 44, son Matthew Terry, 21, and Christopher Bones, 21, were handed down life sentences after being found guilty of killing Gary Pocock, 34, on a beach between Little Groves caravan site and Isle of Sheppey Holiday Village. His body had been found there in the early morning of 7 August 2013.
Jamie West, 19, was also convicted of manslaughter and was sentenced to seven years following a 10-week trial at Maidstone Crown Court.
The jury heard Mark Terry had called a meeting at his chalet on 6 August in which Matthew Terry, West, Bones, the teenager and another friend – who refused to be part of the plot - were told Pocock had sexually assaulted a teenage girl.
They lured him out for drinks on the evening he died before they attacked him on a beach in Leysdown.
He was hit in the head 20 to 30 times by the men wielding baseball bats before they dragged him across a beach in Leysdown and dumped in the sea.
The victim was identified 36 hours after his murder by his partner after an image of a distinctive signet ring was released to the media.
In an unusual twist the men tried to cover their tracks by sending Matthew Terry to Barking to pretend to be Pocock when sending messages to his partner to stop her calling police.
Senior Investigating officer, Detective Chief Inspector Jon Clayden of the Kent and Essex Serious Crime Directorate, said: "The length of sentences for this group reflects the seriousness of the crime and takes into consideration that from start to finish the majority have denied their involvement in Mr Pocock's murder.
"It has meant Mr Pocock's partner and family have had to go through a lengthy trial and hear the facts of what happened once again.
"The lengths to which all five went to cover up their crime is nothing short of staggering. This was clearly a pre-planned attack on someone who regarded them as friends.
"They used their friendship to ultimately lure him to his death.
"From that point onwards they did all they could to divert attention from themselves, to the point of that Mark Terry shamefully sent his son Matthew to Barking to pretend to be Mr Pocock and send messages to his partner to stop her calling police.
"Our deepest sympathies remain with Mr Pocock's partner and his family who have had to go through this again. I do hope the fact these five have been tried and sentenced for the horrible and cowardly crime they committed will be of some comfort to those close to Mr Pocock."