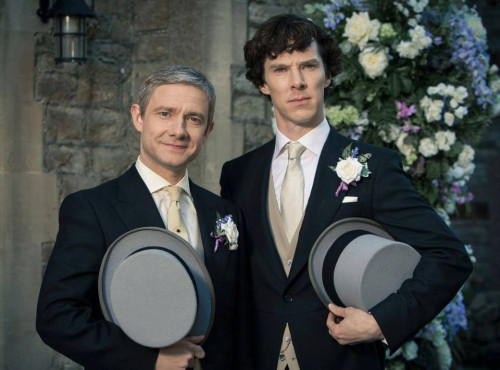 After a phenomenal opening episode, Sherlock's season 3, episode 2, titled The Sign of Three, will air on Sunday in the UK. The eagerly awaited episode will cast Sherlock Holmes in the unfamiliar role of best man at the wedding of John Watson and Mary Morstan.
The second episode will air at 8pm on 5 January 2014 on BBC One in the UK. Viewers in the UK can watch the episode online via the BBC One site.
The popular drama series will return to PBS in the United States on 19 January 2014 at 10pm.
According to a Mirror report based on overnight figures, Sherlock's season three opening episode The Empty Hearse was watched by an average of 9.2 million people. The episode is still available to view on the BBC iPlayer for UK residents.
The reinvention of Sir Arthur Conan Doyle's fictional detective for the 21st century has proved a worldwide hit, and its leading men Benedict Cumberbatch and Martin Freeman have become genuine cinema stars in the three and a half years since the show first aired, in July 2010.
Cumberbatch's most prominent role was as Khan in Star Trek: Into Darkness, while Freeman has been kept busy with the title role in Peter Jackson's Hobbit trilogy.
According to Digital Spy, Sherlock's recent mini-episode Many Happy Returns, which was made available via BBC iPlayer and YouTube on Christmas Eve, has been viewed over 6 million times.
Click here to watch the trailer for Sherlock season 3, episode 2