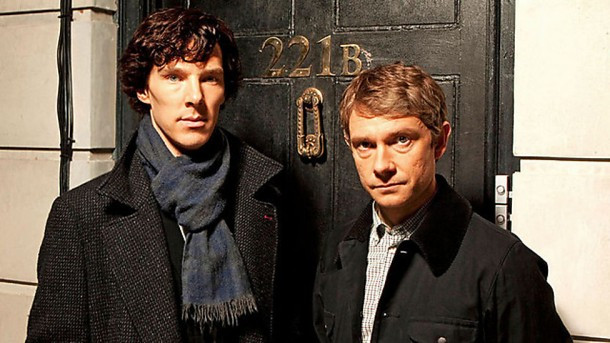 The creators of the BBC's Sherlock series have already said that the season 4 might get delayed because of prior movie commitments of Benedict Cumberbatch and Martin Freeman who play the lead characters in the show.
But it appears Sherlock fans are in for a special treat from the show producers and stars as Martin Freeman has revealed that Steven Moffat and Mark Gatiss are planning a one-off special instead of the fourth series, entertainment website Cultbox reported.
Freeman recently appeared on Alan Carr's Chatty Man show and teased that writers Steven Moffat and Mark Gatiss have a 'fantastic and mouth watering idea' planned.
"I really, really don't know. Steven and Mark have a great idea for something we could do next which they told [Cumberbatch] and I. It's a fantastic, really mouthwatering idea. But I really don't know when we are going to get to do it. I'm up for it - I'm ready - but it's getting planes to land in order. We just all need to be ready at the same time," Freeman told Carr.
"Mark Gatiss may beat me up, but there is an idea for this one-off special that's such a good idea, and as I was listening to it I thought, we've just got to do this. And I don't know when we are going to be able to do it, unfortunately."
The Fargo star has also revealed that he cannot offer any spoilers about the upcoming series as its scripting is still in its early stage.
"I'm not even being coy. I just don't know when it's going to happen. I don't know what it's going to involve apart from this one central idea which is a possible," the actor told Carr during the talk show which will air this Friday.
After the small teaser leaked by Freeman, fans are hoping the one-off special to air soon.