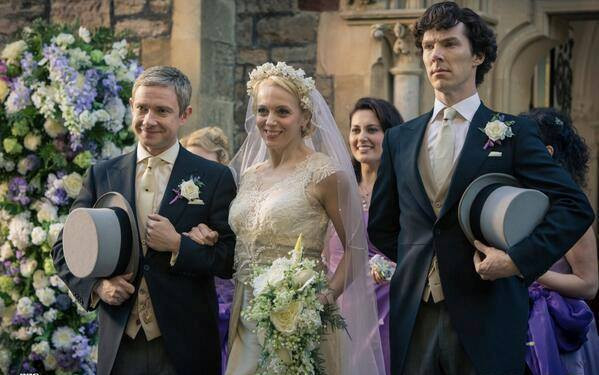 Even though Season 4 of Sherlock will take its sweet time to return to the small screen, speculation about the show's plot and casting don't seem to stop.
Creator Steven Moffat teased some details on the show's future episodes about what fans can expect, according to Enstars.
Sherlock's (Benedict Cumberbatch) arch enemy Moriarty (Andrew Scott) was shown to be alive in last season's finale. Season 4 will feature more of him as it will take the character's story forward.
"Moffat said that he had a plan in place for Moriarty to appear again in the series since season 2, with Scott in on the plan as well," states the Enstars report.
The show's female cast might also get stronger with Moffat referring to Molly Hooper (Louise Brealey) and Mrs Hudson's (Una Stubbs) characters being developed more in the new season.
"A female perspective on that friendship and on that man is incredibly telling, incredibly illuminating," Moffat said. "So we've expanded hugely the part of Mrs. Hudson [played by Una Stubbs] because she didn't speak in the original. And we brought Molly in."
Talking about Molly being part of the fourth season, Moffat said: "Every time we bring a woman into Sherlock, it works hugely well."
In an earlier interview with IGN, Moffat spoke about the two-year wait for season four of Sherlock. "Sue [Vertue] is working on the schedules right now. I just started with Peter [Capaldi] on the new series of Doctor Who. You know, we'll do what we can, but with no sacrifice in quality—that's the thing. If people have to wait two years, they'll have to wait two years."
"When's the next James Bond film? You know, it's not that kind of show that turns up all the time. It's just not. But the good news is, that probably means it will turn up sporadically for a very, very long while," he added.
Sherlock season 4 is expected to air in 2016 but no premiere date has been announced as yet.