The actor arrived at the Nymphomaniac Volume I photocall at the Grand Hyatt Hotel in Berlin, looking unkempt and missing a tooth, and left after answering just one question.
While his co-stars were dressed for the occasion, he arrived wearing a police department sweatshirt, a green military jacket and corduroy trousers and his face hidden behind a khaki hat with the message "hell on wheels."
Asked about the sex scenes in the film he offered a cryptic riposte saying: "When the seagulls follow the trawler, it's because they think sardines will be thrown into the sea."
The 27-year-old was quoting French footballer Eric Cantona, who was mocked by the British press for his unusual metaphor at a press conference in 1995.
With a "thank you" he got up and walked out of the press conference leaving his co-stars Uma Thurman, Christian Slater, Stellan Skarsgard, and Stacy Martin applauding him.
While the actor had managed to change into a suit for the evening premiere of the controversial film, he accessorised his outfit with a paper bag over his head which read "I am not famous anymore."
The stunt was a reference to a performance art piece that the actor was reportedly intending to stage in January as an act of repentance for allegedly plagiarising graphic novelist Daniel Clowes work in a 12 minute short film.
The art work entitled #IAMSORRY involved the actor sitting alone in a room with a paper bag with the words 'I AM NOT FAMOUS ANYMORE' on his head.
LaBeouf made a series of online apologies saying he "got lost in the creative process," and concluded by admitting "I f***** up."
In a series of increasingly bizarre acts hired a sky-writer to spell the message "I am sorry Daniel Clowes" across the skies above Los Angeles.
He proceeded to annoy his fellow actors Brad Pitt and Jason Issacs on the set of World War II drama Fury by "going method" and refusing to shower.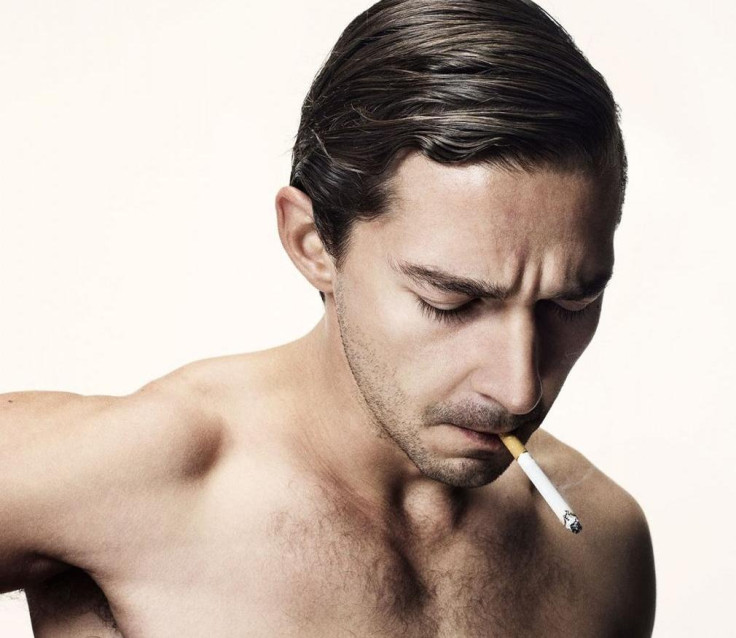 The Transformers star was recently the butt of Jim Carey's jokes at the recent Golden Globes ceremony.
"Dying is easy. Comedy is hard. I believe it was Shia LaBeouf who said that. So young, so wise," said Carey.
LaBeouf responded on Twiiter with the retort: "At least I don't get arrested for indecency on major LA highways! Or abandon love child's (sic)."
He quickly deleted the comment and apologised.
While the actor has claimed he will be "retiring from public life" after "attacks" on his "artistic integrity" the actor isn't showing any signs of giving up the ghost.
The story of a self-diagnosed nymphomaniac, the Lars Von Trier film will be released in the U.S. in two parts, on March 21 and second April 18.