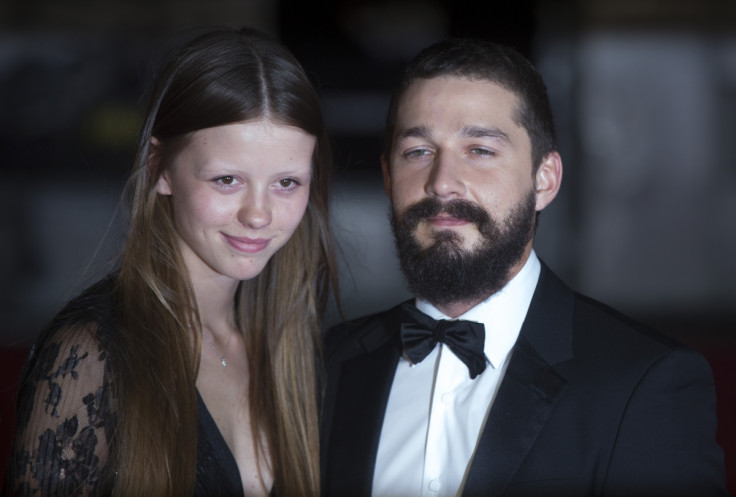 Actor Shia LaBeouf and his long-time girlfriend actress/model Mia Goth are "getting married". The on-again, off-again couple first sparked engagement rumours when the British actress was spotted wearing a large diamond on her ring finger last March.
A source told Us Weekly the Transformers actor was recently spotted shopping groceries at Gelson's when he informed an employee that he was "getting married". The source also said the actor's would-be wife was spotted wearing a large diamond ring on her engagement finger. Earlier, the 29-year-old actor had also referred to Goth as his fiancée during his live stream art project called #Elevate for which he spent 24 hours inside an elevator.
"Shia proposed to Mia earlier this week," a source told HollywoodLife. "They indeed are engaged and have been for several days now," the source said.
"The pair are a match made in artistic heaven, and Shia isn't letting that go," she said. "Mia really loves him and she does things for Shia that no one else does. He feels like Mia really gets him. Shia feels like Mia inspires the creative artist in him," the source said.
"He feels comfortable enough to be freaky around her and she loves it," the source said. "Through all their ups and downs, Mia has always loved him and he wants to be with her forever," the source added.
The couple have been through rough patches some time. A video had surfaced in July 2015 that allegedly showed LaBeouf threatening to kill Goth in the middle of an argument. After this incident, the two split and later LaBeouf was seen with actress Sasha Lane in September. However, the two got back together soon after. Before dating Goth, LaBeouf was dated English actress Carey Mulligan.
However, LaBeouf and Goth have not made any formal comments on the matter.