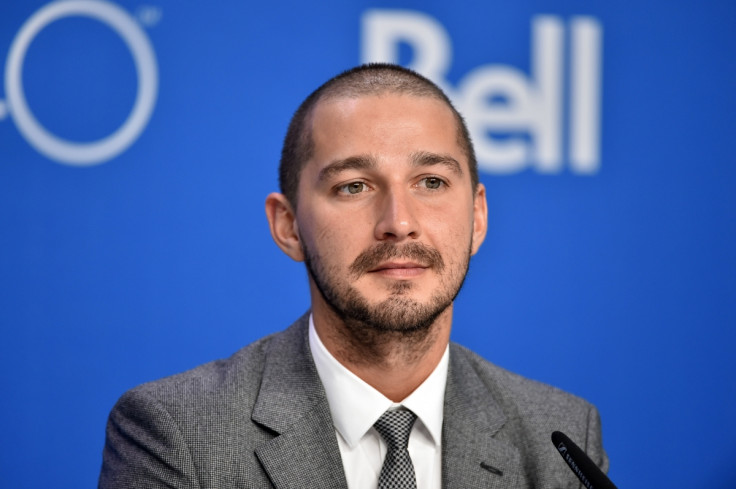 When not making films, actor Shia LaBeouf is busy gaining popularity for his performance artworks, the latest of which are being displayed at Liverpool's Fact Gallery. The Transformers star along with two collaborators – Finnish artist Nastja Säde Rönkkö and Briton Luke Turner –will answer calls from the public "to touch their souls".
The #TouchMySoul project started on 10 December and will continue until 13 December. People can visit the gallery and watch the three artists in action or can watch it via stream live here.
The Touchmysoul website has explained the motive behind the exhibition as: "In a world where we use Instagram and Twitter 'likes' to assess who and what is important, and fame is just a click away, what impact is the internet really having on how we think about ourselves and those around us?"
LaBeouf was encouraged to get into performance art by Nyphomaniac director Lars von Trier. In 2014, he attended the premiere of the film wearing a paper bag over his head, with the words "I am not famous anymore" written on it.
For #IAmSorry, he sat at an LA gallery wearing a similar paper bag and allowed people to come up and spend time with him. For the #MetaMarathon the Transformers star ran 144 laps of the Stedelijk Museum in Amsterdam in purple Spandex, holding a baton with anyone who wanted to run alongside him.
His last project #AllMyMovies saw LaBeouf spend three days and nights (60 hours) in a New York theatre watching all his films in reverse order.
People waited 17 hours outside the cinema for a chance to join the actor in his movie marathon. "It was really nice to be sitting watching Indiana Jones and feeling all this shame about the movie, and to have somebody come up and nudge me on the shoulder and say, 'It wasn't your fault.' You leave the theatre and strangers feel like family. I was walking down the street today and someone offered me a bagel. Films don't do that for you. Films separate you," The Guardian quoted the actor as saying.
While the performances have been mocked by many, who have labelled them as stunts and rip-offs, the Wall Street: Money Never Sleeps actor does not seem to be fazed. "There's an animalistic urge to express love that I can't express in film," he said. "That's why I turned to performance art, because it's just about the process. It's all aired out."