He's become known as a bit of a People's Prince with his down-to-earth nature, love of the public and affable social skills.
And Prince Harry has proved he is much-loved all over the globe with his most recent royal engagement in Sydney, part of a whirlwind visit to launch the 2018 Invictus Games.
Among the hundreds of well-wishers in the torrential rain, Isabel Whitehead was at Sydney Harbour with her colleagues from The Tea Cosy Café in the Rocks hoping to grab the royal's attention.
She thoughtfully gave the prince a cup of tea and scones, just in case he was missing England –despite bringing the weather with him.
She told Daily Mail Australia: "We decided to bring Prince Harry some delicious scones and tea today because obviously the way to a man's heart is through his stomach."
But the moment that really pulled on the heartstrings of onlookers was when Harry cosied up to 97-year-old Daphne Dunne, who waited with a few beers to greet him with.
The pair had already met two years ago and embraced as if they were old pals. She said: "He's worth waiting for – even in the pouring rain!"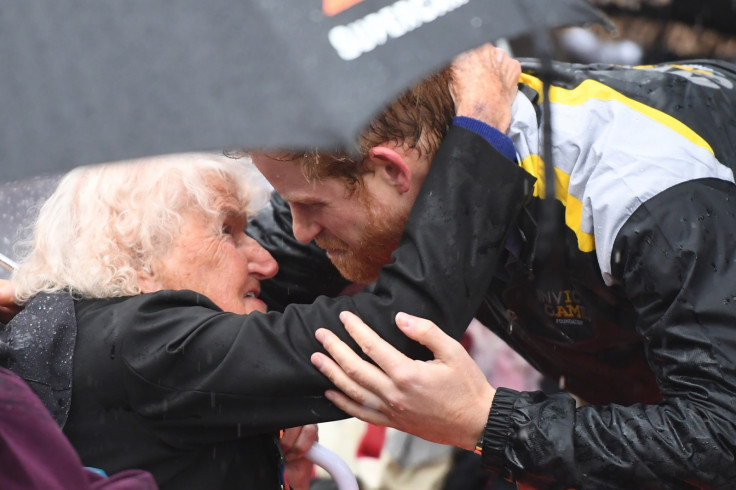 She added: "He was lovely. He gave me a hug and a kiss and said it was great to see me. He was so pleased to see me and he worked out in his own mind that it's just gone two years [since we last met].
"He asked if I ever take my medals off and I said, 'Yes, to go to bed.'"
Harry, 32, was prepared for the downpour in a waterproof jacket, but refrained from carrying an umbrella as he let his red hair get drenched. He didn't let the weather stop him from mingling with his fans, still managing to pose for photographs and spend some time chatting to them.
Harry touched down in Sydney on Tuesday night (6 June) to officially launch the city's 2018 Invictus Games – the international Paralympic-style multi-sport event he created in 2014. It involves wounded, injured or sick armed services personnel and associated veterans taking part in sports including wheelchair basketball and sitting volleyball.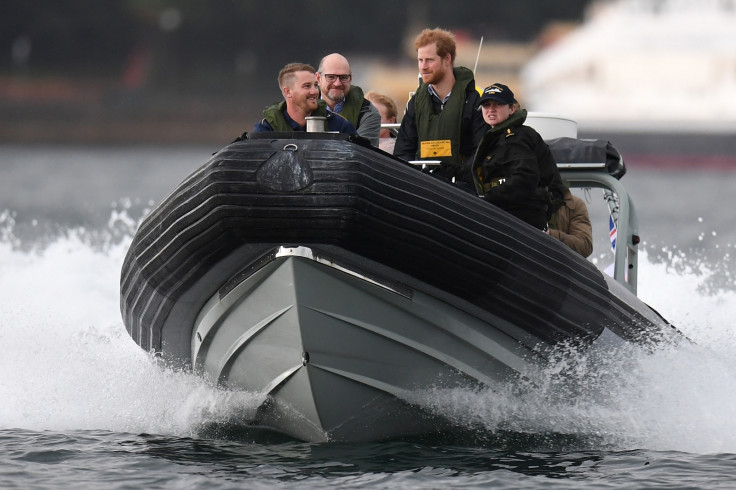 The prince also made an appearance at Admiralty House in Sydney where he paid tribute to the two Australian lives lost during the London terror attack where seven people were killed.
He said: "I would like to start by sending my thoughts to those affected by Saturday's attack in London Bridge.
"Australians form an important and vibrant part of the fabric of life in London and we are reminded of that in good times and bad. And our hearts go out to the victims, their friends and families."