Budding parents looking for inspiration on how to raise their young families can look to the Duke and Duchess of Cambridge as an example – judging by their down-to-earth approach on preparing Prince George and Princess Charlotte for the world.
Despite the royal children always being immaculately dressed – with George often wearing children's designer Rachel Riley – Kate Middleton and William are nurturing their kids in the most normal way they see fit.
Now it appears that Kate wears the trousers in her household and is extremely close to her mother Carole, often looking to her for advice about babies.
A royal insider told Radar Online that the 35-year-old duchess is "keeping stuffy ­royal protocol far from their apartment at Kensington Palace, telling palace aides her kids will be raised her way."
Another source said: "Kate has kept her babies out of the public eye as much as possible. They have absolutely no idea that they're royals. They might look like perfect tots in photos, but at home they play in the mud, fall off their ponies and have screaming tantrums!
"It would absolutely horrify Elizabeth. But Kate insists the kids should be allowed to be normal children. Never in royal history have the children in direct line to the throne been raised in such a modern way."
The publication also alleges that Prince Charles isn't as close to his grandchildren as one would expect.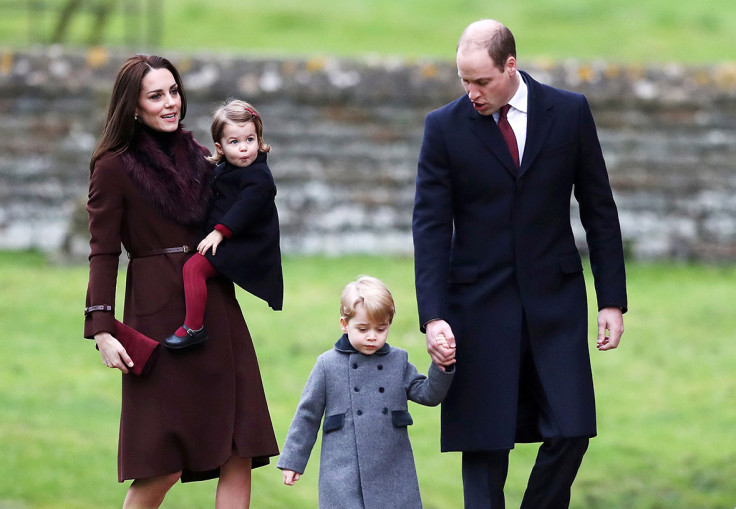 An insider claimed: "Charles insists he has an 'excellent relationship' with George, but the reality is he rarely sees the grandchildren. Kate prefers to leave them with her own parents, Carole and Michael Middleton."
This can be supported by the fact that while Charles resides with wife Camilla, Duchess of Cornwall, at Clarence House in London, Kate and Wills are still living in Amner Hall, Norfolk, ahead of their move to Kensington Palace this autumn.
Though Queen Elizabeth may raise her eyebrows at the Duke and Duchess' way of bringing up their children, the lack of spoiling them seems to be working out for the better.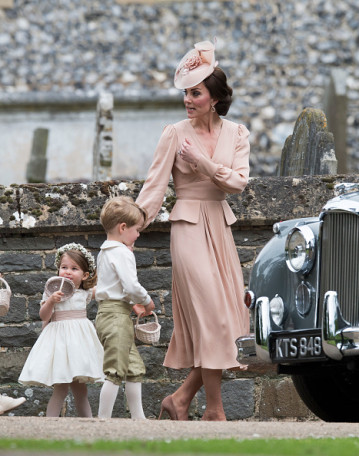 When the duchess spotted a little girl playing with a pile of building bricks during the 2016 Canada tour, she said: "George would love those," hinting that the little boy isn't especially into fancy toys.
And while Princess Charlotte had an array of goodies to play with at the children's party during the family's first tour abroad, she was more fixated on the balloons than any other form of entertainment.
That may all soon change, however.
The duchess is also encouraging her children to take part in sports, just like her, with the little prince already having a go at tennis. Someone who chatted with the duchess during Wimbledon 2016 told reporters: "She talked about George, her little boy, playing tennis... He's got a racket and he enjoys playing tennis."
The royal children don't get any special treatment when it comes to discipline. At Pippa Middleton's wedding to James Matthews on 20 May, the duchess – playing bridesmaid to her sister – was spotted giving sulky George a telling off before entering St Mark's Church, Berkshire, for the ceremony. As one can imagine, George looked less than amused, and appeared to cry at one point, but obeyed his mother nonetheless.
Kate and Wills' regular stance on parenting also reflects their general outlook on life, as the couple admitted to Radio 1's Scott Mills recently that they love ordering a takeaway curry and watching Game of Thrones in comfy clothes.
One aspect of Prince George's life that isn't entirely modest, however, is the school he will be attending later this year. The three-year-old is set to start term at a private Christian day school which values kindness and courtesy in their pupils as well as "integrity at all times" and to understand the rule of law.
The mixed-sex day school – Thomas's London Day School in Battersea, south London – offers "a rich and broad education which inspires enjoyment, learning and achievement", but comes at the cost of £6,000 a term.
Not so normal, then...