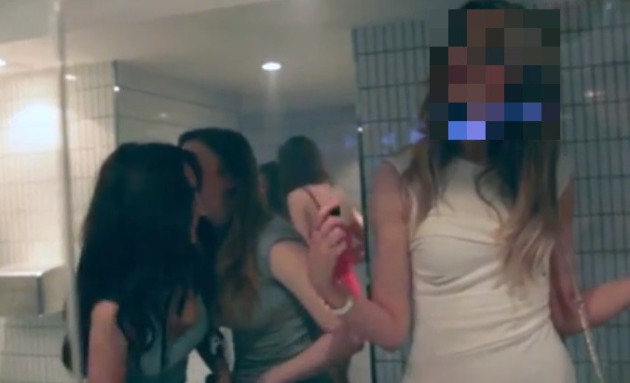 A club in Glasgow has sparked controversy following revelations that it installed a two-way mirror in the women's toilets to allow voyeurs to spy on them.
The recently opened Shimmy Club in Royal Exchange Square allows visitors to pay as much as £800 ($1200) for their private "Smoke and Mirrors" booth inside the club.
The two private function rooms have spyglass mirrors - usually associated with police interrogation rooms - facing into the toilets.
According to the Scottish Sunday Express, the club said the rooms were not available for men to hire. However, pictures have emerged online of men allegedly standing in front of the two-way mirror with unsuspecting women on the other side.
The club described the mirror as a "bit of fun" to act as a talking point about the club but the gimmick was been condemned as a severe breach of privacy. The club has also been criticised for allegedly removing posts on its official Facebook page posted by people angry about the two-way mirrors.
Ellie Hutchinson, chair of the Scottish arm of sexual harassment group Hollaback, said: "We're so shocked to hear that a club in Scotland thinks this sort of thing is acceptable - and the fact that it's up and running shows there's a demand for it.
"At Hollaback, we know that every day so many women are subjected to being watched, judged and having their personal space invaded without their knowledge or consent.
"The fact a club is profiting off this often intimidating and frightening behaviour is gob smacking. You have to ask, why on earth would anyone think this form of non-consensual voyeurism is okay?"
An online petition has since been set up which demands awards recently given to G1 Group PLC - owners of the Shimmy Club - be withdrawn following the controversy surrounding the mirrors.
Jamie Douglas, creator of the petition, said: "The fact that these mirrors were installed by G1 Group shows a complete lack of respect for people's rights to privacy and a shocking attitude towards women.
Basic human right to dignity
"This is precisely the kind of practice that encourages the objectification of women, breeds sexual violence and is leading society away from sexual equality. This is also a violation of the basic human right to dignity."
The Shimmy Club said that following the outcry it would will consider removing the two-way mirror.
A spokesperson added: "The Shimmy Club's two-way mirror is a design feature created as a bit of fun, an interactive feature which we hoped would act as a talking point for people visiting.
"The vast majority of people who have visited the club have taken it as such. It's clear that those who are negatively commenting online may not have been lucky enough to get past the door staff yet and viewed the area as they would have seen that the sight line is very limited and allows for glimpses into the wash-up area.
"There has always been signage in the toilets which no-one has mentioned thus far but as a result of the media feedback clearer signage has been put in place to inform our female customers.
"Overall our customers seem to enjoy this unique idea. Loads have used the opportunity as it was intended and knowingly had pictures taken acting up to the camera individually or in a group of friends.
"However, we are committed to listening to our core customer base."
The club added facetiously: "God help us when they find out that we have buried vibrators into sections of the dancefloor".