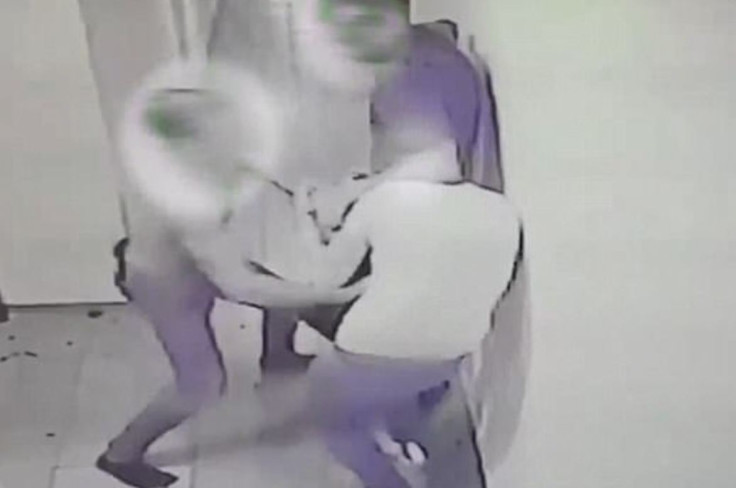 A British tourist was hospitalised following a brutal assault in Mallorca during which two other Britons beat and stabbed him with a broken bottle.
The frenzied attack took place inside a Magaluf hotel on the infamous Punta Ballena party strip and left a corridor splattered with blood and littered with smashed glass.
Shocking CCTV footage shows other guests flee in fear as the two men punched, kicked and stabbed their victim while he also desperately tries to escape.
The incident happened in the early hours of Sunday morning (25 June) as the victim and his friend went to a room at the Coconut Apartments to complain about the occupants throwing objects – including eggs – from their terrace down to the area below, local newspaper Diario de Mallorca reported.
Footage obtained by the paper appears to show the two men remonstrating with the occupants while standing in the hotel corridor.
One of the occupants then emerges from the hotel room and attacks one of the men, smashing a bottle on his head.
Holding the victim in a headlock, his bare-chested roommate appears and unleashes dozens of punches to the man's body and face.
The other attacker then grabs a shard of the broken bottle and begins lunging it into the victim, causing blood to spray over the floor.
As their victim falls to the floor in a daze, the two suspects continue to repeatedly kick him in the head and deliver body blows.
At one point they allow the man's stunned friend to step over his pal's body and pass through the corridor to the exit unharmed, where he runs to get help.
Shocked residents in the building can also be seen coming out of the rooms and fleeing the violent scene.
The two-minute clip of the vicious attack ends with one of the assailants stamping on his victim as he tries to crawl away.
Police arrived and arrested the two attackers. Despite the clip seemingly showing a one-sided assault, the beaten man was also arrested amid claims he had started the brawl. He was taken to hospital for treatment along with another suspect who also suffered injuries.
All three have been released on bail pending an investigation.