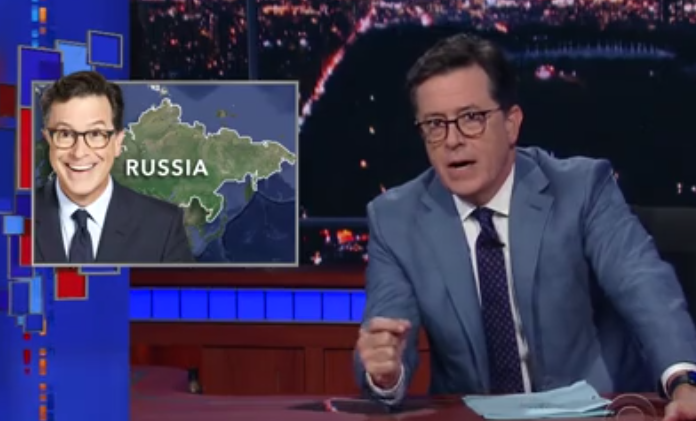 Stephen Colbert is back from a very special trip. The Late Show host was in Russia last week to film footage for upcoming episodes on his late night slot on CBS.
"Man, it is good to be back in the USA," he said at the start of his 26 June monologue, as the audience chanted his name. "I don't know if you knew this... I was in Russia last week. You know who did know I was in Russia? Russian Intelligence... hardcore fans evidently... followed me everywhere."
It looks like Russian agents were not the only ones keeping an eye on the TV personality. Colbert claims even American intelligence operatives were tracking him. "Couple of guys seemed to pop up wherever we went."
But he can understand that it is important for these government agencies to be careful. "It's important to keep your eye on a comedian while he's in Russia, doing jokes. I could be giving state secrets to the Russians," he joked to the audience. "Oh wait, somebody's already got that covered..."
Later in the show he talked more in depth about his overseas trip. "The top story is, high-level Americans have ties to Russia, but this time the high level American was me. The whole trip was supposed to be top secret... but some traitor leaked that I was there... it was me," he said indicating the tweet he posted last week from Russia.
"That is me in front of St Petersburg's Winter Palace... or as they call it Tsar-a-Lago."
While in Vladimir Putin's home country, the 53-year-old also made an appearance on the local talk show Evening Urgant during which he announced that he was considering his own bid for the White House in 2020. "I thought it would be better to cut out the middleman and just tell the Russians myself," he told the host Ivan Urgant.
On Monday, Colbert explained that he was only "considering" running for president and had not made his decision yet. "If I decide to run, obviously I'm not going to ask the Russians to help my campaign. I'd have my son-in-law ask them."
Watch a clip of The Late Show monologue below: