Shocking video shows woman wearing just a gown tossed out of hospital into freezing cold
The man who filmed the distressing videos asked: "Is this what healthcare in Baltimore City has come to?"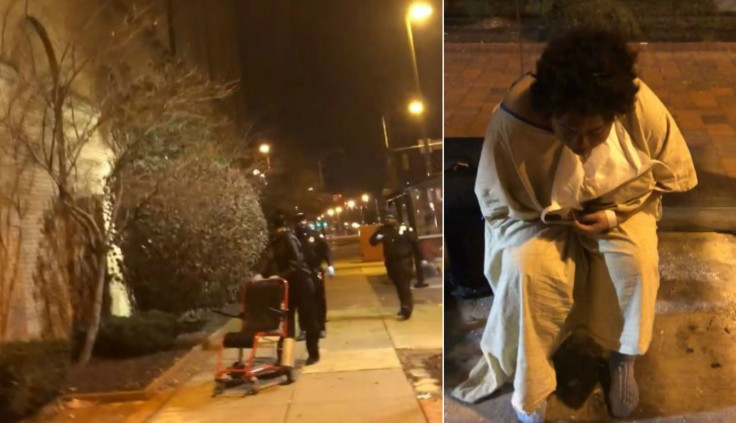 These shocking viral videos show a woman left at a Baltimore bus stop on a cold night in just a hospital gown after being discharged from hospital and dropped off by four security guards.
The videos show the woman, who may have mental health issues, in a state of distress struggling to stand or speak. She was wearing a hospital gown with no underwear, and just socks with no shoes. Her belongings, including a pair of trainers, were dumped in two plastic bags at the bus stop.
Psychotherapist Imamu Baraka posted three videos of the event on Facebook saying: "Is this what healthcare in Baltimore City has come to?"
Addressing the University of Maryland Medical Center Midtown Campus (UMMC), where the incident happened, he wrote: "You can do better. You must do better."
One of the videos showed four men, who appear to be security guards, walking away from the bus stop with an empty wheelchair. He asked them: "Wait, so y'all going to just leave this lady out here with no clothes on? That is not okay."
One of the men replied: "Due to the circumstances of what it was," to which he replied they should have called the police if there was an issue with her behaviour. Baraka followed the guards to the hospital entrance and asked to see a supervisor but was told that the woman had been medically cleared to leave the hospital.
Baraka returned to help the woman and called an ambulance to get her taken back to hospital just around the corner. He told her: "I know it's cold, and you don't have any clothes on, but I'm going to call and get you some help."
He said "I am disgusted by the lack of empathy that I am seeing," adding that he got the impression that the situation was "the norm" from the ambulance driver who came to pick the woman up.
The incident took place on Tuesday night (9 January) when a screenshot posted with the video showed it was 37F (2C). The initial video has been viewed more than 2 million times and people reacted with shock and outrage in the comments, with many thanking Baraka for his intervention.
One Facebook user said: "How uncaring can you be. For a hospital to throw a woman half naked into the freezing cold is not what people from a hospital should be doing. What is going on in this world?" Another wrote: "Shocking and heartbreaking. Thank you for posting. Sadly, I imagine she is not the only one."
At a news conference on Thursday, hospital CEO Dr Mohan Suntha said a review had been launched into what happened. "We feel firmly that we provided adequate medical care to a patient who came to us in need," he said.
"But where we absolutely failed, and where we own that failure, is in the demonstration of basic humanity and compassion as the patient was being discharged from our organization after receiving that care. I share the community's shock and anger with what occurred."
The hospital confirmed that the woman was not thrown out because of any insurance issues or her inability to pay, and refused to give any information about what has happened to her since the video was filmed citing privacy regulations.