Shonda Rhimes proved her loyalty to Hillary Clinton by producing a biopic on the presidential candidate which was aired at the close of the Democratic National Convention on 28 July. The film titled Hillary not only focused on the woman as a politician, but offered a glimpse into her personal life.
The Grey's Anatomy and Scandal showrunner roped in Morgan Freeman as the narrator. In the video, Clinton sits across her kitchen table talking about issues that are close to her heart, along with the TV producer and her producing partner, Betsy Beers.
"I wanted everyone who sees it to feel like they were sitting with a friend, drinking coffee, so that had to be authentic," Rhimes told People magazine about the five-hour long conversation.
"Hillary drank tea, actually. You can't drink coffee for five hours and expect her not to bounce off the walls," she added.
With the Shondaland TV shows on summer hiatus, the showrunner was called on by the Democratic Party to make the film. "It was invigorating," Rhimes mentioned. "The geeky student in me who loves doing homework and research, I got to immerse myself in photos and articles. I've spent more time on Hillary Clinton's Flickr page than any other human being on the planet."
One of the main goals of the film was to showcase the softer, more accessible side to Clinton – a side that does not often make its way to the surface in her public appearances. "There were so many stories that one of the massive challenges for us initially was, honestly, sifting," said Beers regarding the footage. "It was a mini-series when we first started. It could have been three hours," Rhimes added.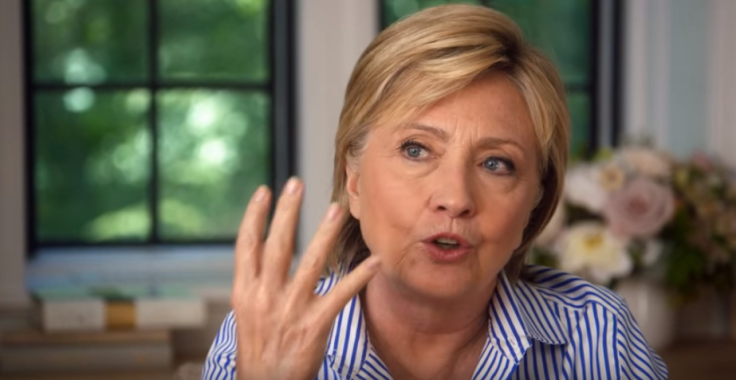 Aside from the presidential hopeful, the 12-minute video features interviews with Barack Obama,Bill Clinton, 9/11 first-responder John Dolan and 9/11 survivor Debbie St John along with Clinton's childhood friend Betsy Ebeling.
"As a writer who builds characters for a living, it was exciting to take an actual human being and pieces of who she is and see how it builds a person and her character, why she is who she is," Rhimes explained and added, "Given the Trumpiness of the world today, we felt like we were doing the work of angels.
"And the best part? I didn't have to add a plot twist!"
Watch the full film below: