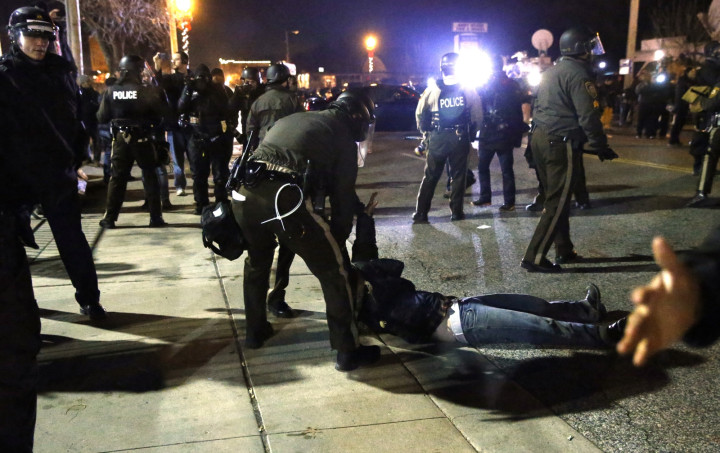 Eleven cities across the United States have seen protests after a jury decided not to indict a police officer over the killing of an unarmed black teenager in Ferguson, Missouri.
Demonstrations have taken place from New York City to Oakland, California, with protests in Seattle, over the fatal shooting of 18-year-old Michael Brown in August. Many protesters have taken to social media with the hashtag #ShutItDown.
Protests were also reported in Albuquerque, Cleveland, Minneapolis, Atlanta, Chicago, Los Angeles and Portland. Looting was reported in several locations in Oakland, in the San Francisco Bay area, with police vehicles and businesses in the town centre vandalised.
There was some unrest in Ferguson, as police made 44 arrests, but the town did not see rioting on the scale on Monday night. Around 2,200 National Guard soldiers had been deployed to keep peace in the St Louis suburb.
Many in the African-American community of Ferguson had called for Wilson to be charged with murder, but a Missouri grand jury made the decision not to bring charges.
President Barack Obama has called on protesters for peace, urging Americans to accept that the decision was "the grand jury's to make''.
The officer who killed Brown says he has a "clean conscience".