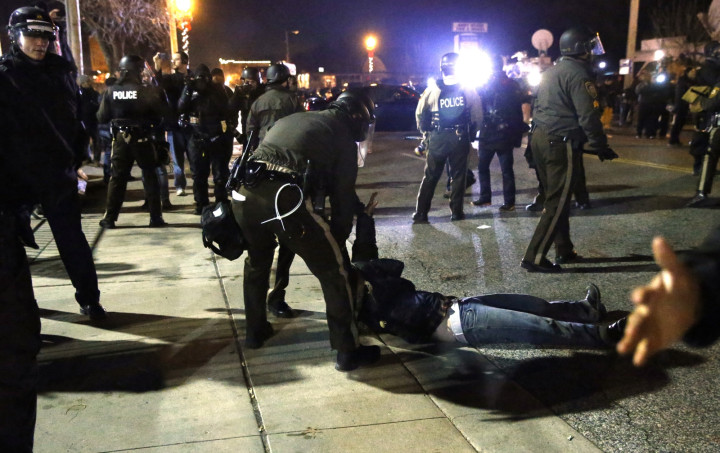 Missouri Governor Jay Nixon has said more than 2,200 national guard troops are being deployed to quell the situation in St Louis where protests raged over the grand jury's decision not to indict police officer Darren Wilson.
Unarmed black teenager Michael Brown was shot dead by Wilson on 9 August.
After the jury's decision was made public, nearly a dozen buildings were set ablaze by angry mobs. Police have said patrol cars were also set on fire by the protesters. As many as 60 people were arrested by the police while at least 14 were injured.
Ferguson Mayor James Knowles has said an earlier troop deployment would have saved many businesses in the area.
"The decision to delay the deployment of the National Guard is deeply concerning. We are asking that the governor make available and deploy all necessary resources to prevent the further destruction of property and the preservation of life in the city of Ferguson," Knowles told reporters.
Initially, about 700 troops were sent but the number was increased after Nixon ordered more national guard to the area.
Many other US states have also witnessed protests.
Since being cleared by the jury, Wilson has insisting he has "clear conscience" concerning the shooting of 18-year-old Brown.
In an interview exclusively reported by the ABC News, the police officer said: "The reason I have a clear conscience is because I know I did my job right."
But the dead boy's family are questioning the US justice system for failing to press charges against Wilson.
The family's attorney, Benjamin Crump, told a press conference: "All across America, whether it's in New York, Los Angeles, California or Cleveland, young people of colour are being killed by police officers. And the local prosecutors put together this 'fair and unbiased' grand jury, and it continues to yield the same results."