Nigeria's former petroleum minister Diezani Alison-Madueke, who has breast cancer, has announced she will return to Nigeria to meet controversial preacher TB Joshua for spiritual support. Alison-Madueke, who was arrested in London in October 2015 on suspicion of bribery and money laundering, is not the only one who has sought Joshua's help in difficult times.
The Nigerian preacher has hundreds of thousands of followers and has been deemed one of the most influential religious leaders in Africa. Joshua's net worth is believed to be between $10m and $15m (£6,6m - £9,9m) according to Forbes. His thousands of worshippers are required to pay 10% of their paychecks to remain members of his megachurch.
IBTimes UK looks at the private and professional life of the self-proclaimed prophet, who has sparked lots of controversy over the years for, among other things, claiming he routinely performs miracles.
Private life and SCOAN
Temitope Balogun Joshua – known as TB Joshua – was born in Arigidi Akoko, Ondo state, in 1963. According to the preacher, he spent at least 15 months in his mother's womb and "supernatural phenomena" were part of his childhood.
For example, the leader claimed that when he was three-day-old, a large boulder crashed through the roof of his house, missing him by few inches. After the incident, his mother named the baby 'Temitope', which translated from Yoruba as "enough to give thanks" or "What God has done for me is worthy of thanks".
Joshua was known to schoolmates in Arigidi as "the small pastor" due to his interest in the Bible. He failed to complete secondary school because his family could not afford to pay the fees and thus started working during the day and attended evening school.
Joshua founded the Synagogue, Church of All Nations (Scoan) in 1987 after he claimed he had a vision of God asking him to build a ministry. As Joshua's popularity grew, his church attracted an increasing number of worshippers who amount to some 50,000 every week. Visitors have included Zulu King Goodwill Zwelithini kaBhekuzulu and late Ghana President John Evans Atta Mills.
In September 2014, the Scoan building in Lagos collapsed, killing 116 people, mainly South Africans. Joshua, who refused to testify in court, said the building collapsed due to a plane he said was flying over the church. The claim was dismissed by the court, which ruled Joshua's church should be prosecuted for "criminal negligence" as the building was built without consent.
Joshua lives in Lagos and is married to Evelyn Joshua, with whom had three children. The eldest child, Serah Joshua, attended the London School of Economics and obtained a degree in law.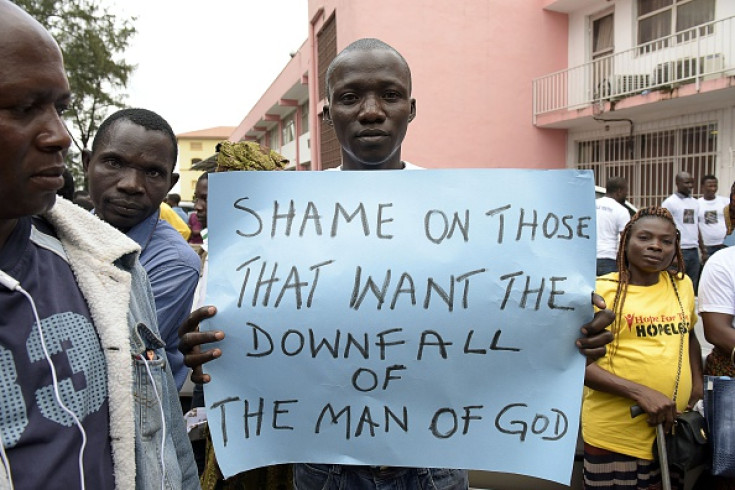 Miracles and anointing water
Joshua and his worshippers have claimed the preacher performs miracles and is able to heal people. According to his official biography, Joshua has healed people affected by diseases such as HIV and AIDS. Such allegations have sparked controversy both in Nigeria and abroad.
Joshua's worshippers also believe he is able to heal people by using his anointing water. At least four people were killed in a stampede when the leader was handing out during a service at the Scoan branch in Ghana in 2013.
Joshua sparked controversy when he claimed his water could heal the Ebola virus, which caused more than 10,000 deaths in West Africa in the latest and most deadly outbreak, which started in 2014. Lagos state government issued a statement warning people affected by the virus not to go to the church so that they would not pose a risk to to the other worshippers.
Scoan also runs Emmanuel TV, a TV station that broadcasts Joshua's preaching. The Youtube channel affiliated to the TV station has more than 260,000 subscribers, while Joshua's official Facebook page has more than 1.7m followers.
Prophecies
In July 2013, Joshua allegedly predicted that the Malaysian Airline plane MH370 would disappear. The plane mysteriously vanished in March 2014 while it was en route to Beijing from Kuala Lampur. Search operations for the aircraft, which carried more than 200 people, are still ongoing.
Among other things, Joshua also claimed he predicted the death of Michael Jackson and the Boston bombing attack in 2013.
Other controversies
Joshua has also sparked controversy for claiming that women who terminate a pregnancy that results from rape commit a double sin. He was also criticised after three HIV-positive people living in London died after Joshua suggested they stopped taking medications.
In 2015, Joshua was also rumoured to have bought a $60m (£39m) jet mere months after the deadly Scoan building collapse in Lagos. The allegation was denied by Scoan.
Nigeria up close: Check out our Flipboard magazine