Harry Styles refused to deny rumours he is set to play both Hans Solo in the new Star Wars origins story and Mick Jagger in an upcoming biopic.
Fresh from causing a stir with his acting and singing skills on Saturday Night Live (SNL), the 23-year-old teased the new projects on The Graham Norton Show as his self-titled debut album nears release on 21 May.
In a segment on Friday (April 21), Norton attempted to clarify a number of rumours about the star, who recently went solo after finding global fame as part of pop band One Direction.
By the rules of the game, termed the "Warren Beatty Challenge", Styles was only able to answer with facial expressions and intensified speculation over future Hollywood film plans.
When asked whether he had auditioned to play a young Han Solo in the Star Wars origins spin-off, due for release in 2018, the entertainer delivered a wry smile.
"That might be a yes," exclaimed Graham Norton, while fellow guest Rob Brydon added "that's a yes!" over the role, which has since gone to Alden Ehrenreich.
Styles was also similarly coy over starring as Jagger in a new rock biopic directed by Andy Goddard, rumoured to be titled Exile on Main Street: A Season in Hell with the Rolling Stones, in reference to the band's 1972 album.
The news comes after Styles dressed up as Jagger to take part in a 1977-set edition of Family Feud on SNL.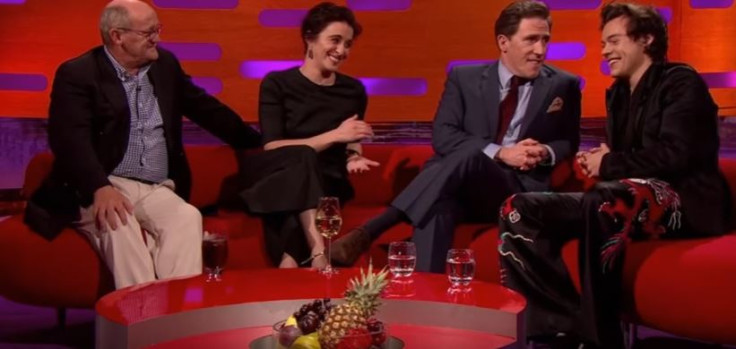 His impersonation demonstrated some of the acting skills that landed him a slot in Christopher Nolan's upcoming war epic, Dunkirk, due to hit cinemas in July.
But it appeared the singer had taken the influence of Jagger to heart, as he wore some striking flared Gucci jeans on the BBC show. Commending Styles on their striking nature, Brydon quipped at Styles: "You got the pyjamas I sent you, I see."
The Redditch-born star has been keen to chart a course away from the bubblegum pop of his boy band breakthrough – discarding One Direction's X Factor mentor Simon Cowell in favour of signing with Columbia Records last year.
Last month NME quoted reports from industry sources that claimed, "…in marked contrast to One Direction's production by committee, Styles has crafted a set that recalls the regal high-water mark of 1970s British rock, Bowie and Queen in particular".