Former One Direction star Harry Styles sent the internet into overdrive when he debuted Sign Of The Times on Friday (7 April), the first solo single taken from material set to "sound like David Bowie and Queen", according to insiders.
An emotive rock-ballad, the track certainly seems inspired by 1970s' Bowie in its opening minute, mimicking the instrumentation and vocal tones of Bowie on Space Oddity, even if it does lack anywhere near the same level of identity or daring chord progressions.
The 23-year-old has been keen to chart a course away from bubblegum pop of his boy band breakthrough – discarding One Direction's X Factor mentor Simon Cowell in favour of signing with Columbia Records last year.
Last month NME quoted reports from industry sources that claimed, "…in marked contrast to One Direction's production by committee, Styles has crafted a set that recalls the regal high-water mark of 1970s British rock, Bowie and Queen in particular".
Further detailing his affinity with British music icons during an interview with BBC Radio 1's Nick Grimshaw on the day of release, Styles said: "I think it's hard to not have influences from what you grew up listening [to], I had a good mix between my mum and my dad, because my dad was into, like, Fleetwood Mac, The Beatles, The Rolling Stones, Pink Floyd, Queen; while my mum was like, Norah Jones and Savage Garden."
And now bookmakers have suggested the rising star – who is also set to feature in Christopher Nolan's new World War II blockbuster, Dunkirk – could even change his name to Ziggy Styles in tribute to Bowie's performance character Ziggy Stardust.
Bowie died of liver cancer in January 2016, days after the release of his final album, Blackstar, which went on to receive a posthumous Mercury Award nomination.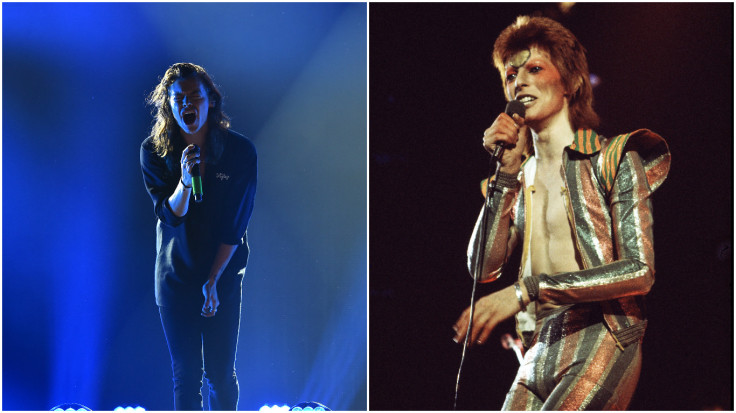 Bookmaker Paddy Power has slashed odds on the daring move to 10/1, and have placed Styles at 10/11 to cover a Bowie song in the near future.
A spokesperson for Paddy Power said: "Harry Styles is not only a good looking lad, but he's a talented chap too.
"I might think his new single is a load of pish, but it'll still probably end up a massive hit. Must be a Sign of the Times."