Police investigating last week's savage murder of Saudi Arabian student Nahid Almanea have released an updated description of a man seen running out of an alleyway near the scene. The man is said to be aged 18-25, wearing a distinctive brown jacket, with thick dark hair and a tanned complexion.
Police drained a pond this morning but have not yet found a weapon. They are conducting door-to-door enquiries and have appealed to residents to keep an eye out for anything unusual such as blood-stained clothing. Metropolitan Police specialists have been brought in to aid the investigation.
The murder of University of Essex student Almanea, 31, who was wearing Islamic clothing when she was attacked, led to speculation that her murder may have had a racial or religious motive, and led to threats from UK citizens fighting in Syria with Isis. However, police do not know the motive and have appealed for calm.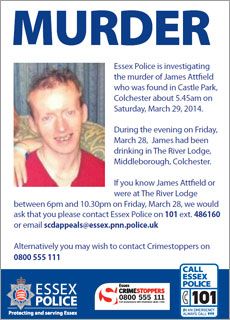 So far police are treating the murder separately to that of James Attfield, stabbed more than 100 times in a nearby park in March. Speaking to Sky News, Attfield's mother Julie Finch said she will be terrified for her other children until his killer is caught.
"You turn on the news and every story is a murder or someone is in court for murder," said Finch. "Until you're in a situation where you've lost someone you don't notice it. But now I'm terrified for my girls. I won't go out on my own and it proves with this latest murder that it doesn't matter what time you go out or where you are. Everyone has to be so much more vigilant."
Detective Chief Superintendent Steve Worron said in a statement: "A criminal profiler from the National Crime Agency has carried out a thorough assessment of all the evidence in connection with both murders. A decision has been taken that they remain separate but parallel investigations at this time. However, the circumstances of both crimes mean that we must consider the possibility that the same killer or killers are responsible."
People in Colchester have been advised not to go out alone until the killer is caught. Anyone with information is asked to contact the Major Investigation Team on 01245 282103, Essex Police on 101 or contact Crimestoppers, anonymously, on 0800 555 111.