Sikh Lives Matter: London police shut down 'peaceful' protest with 'heavy handed' riot tactics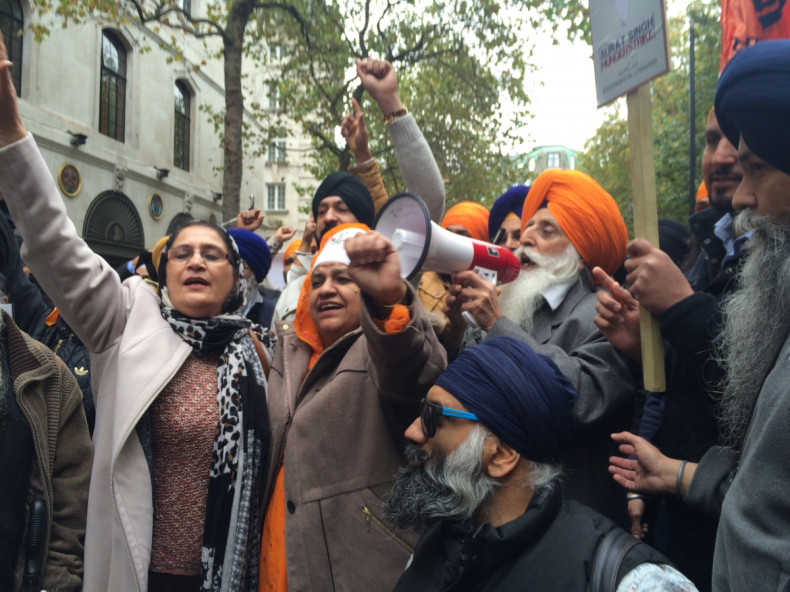 A Sikh Lives Matter demonstration in London turned violent on Thursday (22 October) when protesters clashed with police forces. Organisers have accused the police of being "ill-prepared" for the protest numbers and using "extreme heavy handed tactics".
Police confirmed that 20 people were arrested and one police officer suffered an injury to his head during the incident outside the Indian High Commission in Aldwych. Things turned unpleasant after riot police were deployed to clear a sit-in staged by protesters, which had shut down the road outside the High Commission. Organisers have said that all 20 protesters were arrested without charge, however, the Metropolitan Police was unable to confirm this.
According to organisers of the protest, police were told on Monday, 19 October, that 500 protesters were expected on the day and that a number of coaches had been organised to transport people from outside London. They said that police have previously allowed Sikh protesters to close off a part of Aldwych road and usually put up barriers halfway down the road, to allow for traffic to continue, as well as protesters to occupy parts of the Aldwych.
"For some strange reason the police were ill-prepared," said Gurjeet Singh, National Press Secretary of the Sikh Federation UK. "The police should explain why they thought the barriers were not necessary as road closures were expected to be the main issue."
Protesters said that they had been told by Chief Inspector Nick Collins that no articles of faith would be removed, however, some reports have indicated that one officer allegedly removed a Sikh man's turban during a scuffle. Other protesters have claimed that the unrest began when a police officer broke a Sikh flag in half, which they believed was "hugely disrespectful and designed to get a reaction".
As things became increasingly tense, some protesters – particularly women and the elderly – stayed behind to provide free food and water to everyone present. Many of the protesters were disappointed with the way that the demonstration had ended, insisting that they were unaware that there would be a roadblock and that they did not support disrupting people's travel. Despite their disappointment, many refused to leave the area and instead began handing out flyers to bystanders who were attracted by the heavy police presence.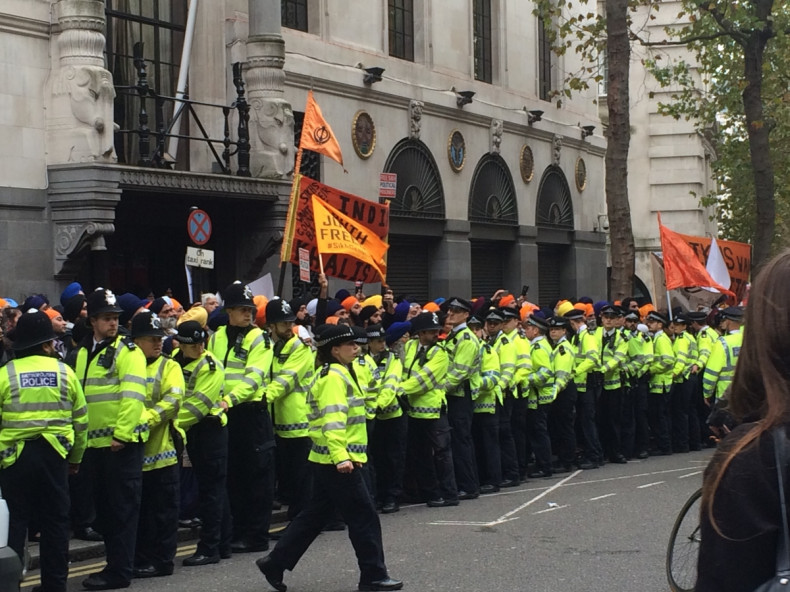 "Many non-Sikh onlookers were astonished at the heavy handed reaction of the police to the peaceful Sikh protest," said Singh. "What was planned in London was simply a sit-in protest, but the Metropolitan Police clearly had other plans, including the use of extreme heavy handed tactics against men, women and children."
Angus Tatchell, a politics student at the London School of Economics (LSE), came across the unrest in central London on his way to university. He took to social media to post a video of what he saw and also spoke to protesters who were able to inform him about human rights violations against Sikh in Punjab. He wrote: "I happened to be walking to my campus past the Indian High Commission when a peaceful Sikh protest was met with violence by the police, mounted and armed with riot gear."
The controversy began when Indian police in Punjab clashed with protesters who were demanding the arrest of those responsible for the desecration of the Sikh holy scripture. Two Sikh men were killed during the clash when police allegedly opened fire on protesters.
The UK's Sikh community have said that the incident in Punjab closely resembles events of the 1984 anti-Sikh riots, when "there was a complete disregard for Sikh lives" and "widespread police and army brutality".
The protests in London were staged ahead of the Indian Prime Minister's visit to the UK in mid-November. Many Indians in the UK are preparing to stage protests against Prime Minister Narendra Modi, accusing him of being responsible for discrimination against India's minority groups, including those of Sikh and Muslim faiths.