Several thousand Sikhs are marching through central London to protest against the Indian government's 1984 military raid on the Golden Temple in Amritsar.
Crowds from across the UK gathered in Hyde Park on Sunday and will march to Trafalgar Square, demanding that the June 1984 assault be recognised as a genocide.
Sikhs say thousands of people were murdered when then Indian Prime Minister Indira Gandhi dispatched the army to the holiest shrine in the Sikh faith to flush out militants led by extremist seminary student Sant Jarnail Singh Bhindranwale.
Demonstrators also say that India did not do enough to prevent the killing of thousands of Sikhs in riots that erupted later that year.
The UK government's recent declassification of previously secret papers which showed that an SAS officer was recruited to help plan the operation has also provoked anger among British Sikhs.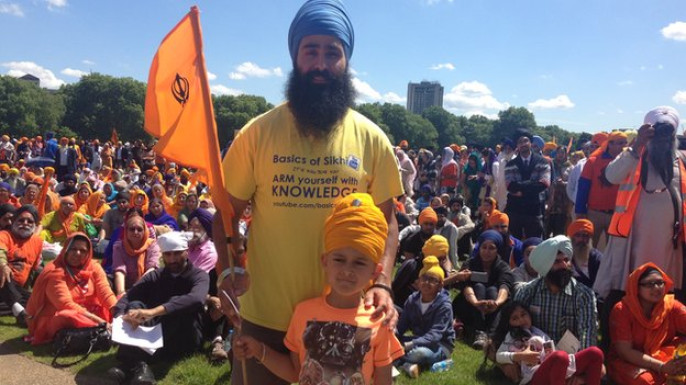 "Thousands were killed or disappeared," Balvinder Kaur of the Sikh Council UK said. "Their families to this date do not know of their whereabouts."
In Leicester, a statue of Mahatma Gandhi was vandalised with graffiti apparently referring to the attack.
The slogans "Never forget 84" and "We want justice #84" were sprayed onto the base of the statue in Leicester's Golden Mile.
Amritsar's Golden Temple, which was built in the 16<sup>th century by the fifth Sikh guru Guru Arjun, was taken over by militants led by Bhindranwale, who wanted an independent homeland for Sikhs in order to escape what he described as discrimination from the Hindu majority.
The militants also demanded a greater share of water from sources serving Rajasthan and Punjab. Indira Gandhi ordered Operation Blue Star, in which commandos and tanks were used to attack the temple complex.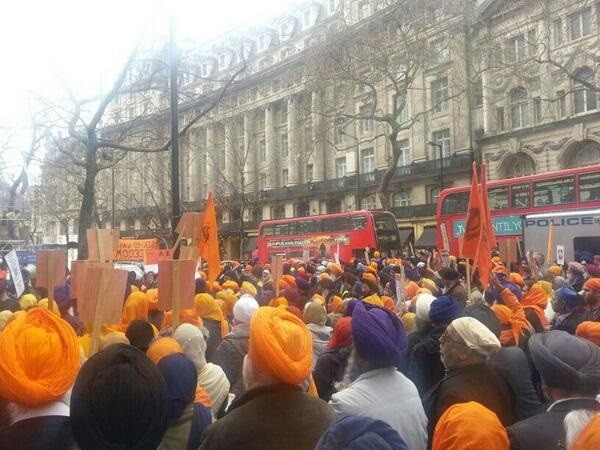 The assault led to several deaths, with even moderate Sikhs horrified at the level of violence meted out during the attack.
Five months later, two of Gandhi's Sikh bodyguards assassinated her in revenge for the Amritsar attack.
Claire Fuller, a spokeswoman for the Global Minorities Alliance, said: "The Sikh population in India has been persecuted for centuries. Many see the 1984 massacre as a genocidal attack on their religion rather than an assault on militants, as the official Indian government story states.
"The Indian army killed indiscriminately and without warning, desecrating the temple and killing men, women and children.
"Sacred scriptures which Sikhs consider alive, as the holiest of their religious items, were filled with bullet holes and destroyed. To this day, the event deeply affects Sikhs in the Punjab region and worldwide."