When a film has been directed by Martin Scorsese, everyone sits up and takes notice. Silence isn't just a movie helmed by the legendary filmmaker either; it's one that took him 26 years to make. Now, on the back of overwhelmingly positive reviews, the film is already being hailed as an Oscar contender, and star Liam Neeson puts that all down to Scorsese.
"There's a handful of great directors, I think, and he certainly is one of them," Neeson told IBTimes UK during the film's press junket in London. "His range of subject matter if you look at the body of his films is quite extraordinary, you know? To go from Mean Street to Gangs Of New York, to The Wolf Of Wall Street and then to suddenly jump into Silence... Very, very different.
"He's always, like any true artist, questing after a truth. That never stops with him. He's 74 years of age and he's [still] got a roster of films he wants to do, it's very admirable. He'll probably die with his head up against a camera."
Based loosely on real life events and Shūsaku Endō's novel of the same name, Silence follows Sebastião Rodrigues (Andrew Garfield) and Francisco Garrpe (Adam Driver), two 17th Century priests who travel to Japan to find their missing mentor, Ferreira (Neeson), who has supposedly renounced his faith. While there, the pair hope to propagate Catholicism but shortly after their arrival, they quickly learn the dangers of being a man of God in the isolationist country.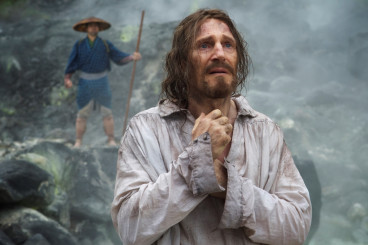 In remote villages, Japanese Christians hide their practices, in fear that they'll get found by troops that spend their days trawling landscapes to find heathens. Upon learning the priests are near, communities offer to shelter Rodrigues and Garrpe – but their presence in the country causes violent consequence for all who are involved, as they are all forced to question the strength of their faith.
It's certainly heavy stuff, and Neeson was quick to remind IBTimes UK that he and his co-stars never forgot about the film's serious story on set. He even went on to explain that he and Garfield – whom he has most scenes with – didn't hang out at all during filming due to the challenging and tiring nature of the subject matter.
"There weren't a lot of jokes, I have to admit," the Taken star told us. "Everybody was very, very focused on it. Martin particularly likes absolute silence on the set, especially with this one, which was terrific because you've got all the crew and everybody really focused on what you were shooting which helped us, the actors."
Silence is released in UK cinemas on 1 January 2017.
For more entertainment news follow us on Twitter @Alistinsider