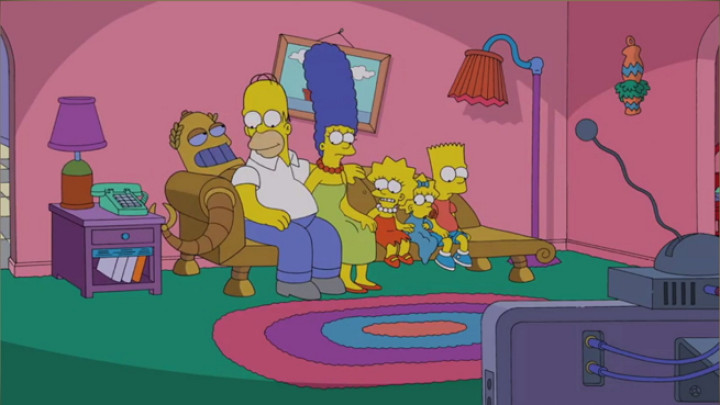 After a record breaking Simpsons-Family Guy crossover, the Springfield Family will play host to another family from the future.
The Planet Express crew from the 31st century is scheduled to visit present-day Springfield to stop Bart from destroying the world.
The crossover will unwind a complex Terminator-esque story that involves "Bart blowing his nose on a sandwich that he places in a time capsule. When that mixes with Milhouse's rabbit's foot and some radioactive ooze, it creates a global catastrophe in the future, prompting Bender to travel back in time to kill Bart and prevent this mega-mess."
In an exclusive peek at a scene from the episode, we see Homer and Bender take Bart for a spin. Click here to watch the promo.
In the new picture released we see Fry, Leela, Bender and Homer together, discussing something.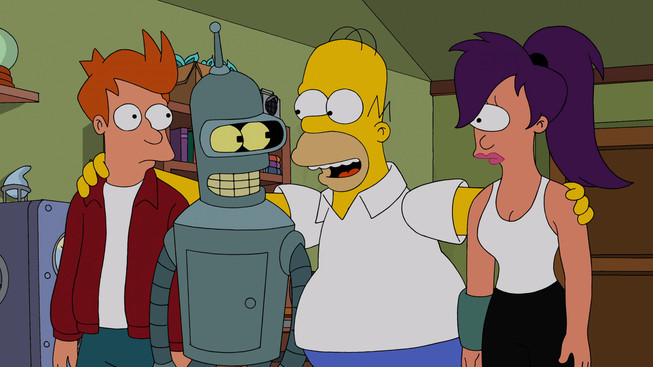 Fox has also released the couch gag from the crossover episode.
The couch gag features the Simpsons' couch transforming into Hedonismbot, prompting everyone to stand up in shock/disgust, except for Homer, who receives a massage and is fed grapes.
The episode will also feature the rest of the Planet Express crew, voiced by original Futurama cast members John DiMaggio, Billy West, Katey Sagal, Phil LaMarr, Lauren Tom, Maurice LaMarche, and Tress MacNeille.
Producer Al Jean said of the episode: "Futurama is such an easy fit. It's really funny, and their show lends itself to any variety of plot lines. By having them on, we have a little freedom... The biggest thrill for me is that we don't have to adjust the animation style."
Here is the promo which shows Homer strangling nibbler and Bart inside the Planet Express Spaceship.
Simpsorama airs Sunday, November 9 at 8 pm ET on Fox.