Refugees fleeing the Sinabung Volcano could start a social uprising after a government spokesperson said they had become reliant on aid and were uninterested in helping themselves.
According to Sastroy Bangun, a local cultural historian, evacuees living in the camps set up after the volcano started erupting last September are unhappy with the comments of Sutopo Purwo Nugroho, a spokesman for the National Disaster Mitigation Agency (BNPB).
Sutopo had suggested the refugees were in no hurry to return to their homes while they were being fed and sheltered by the government for free.
He told the Jakarta Globe: "According to reports from Karo administration officials, some students became lazy and refused to return home due to the influx of aid in the temporary shelters. This relative plenty has made them reliant on aid and less motivated to study.
"Aid should be in the form of empowerment, not just by providing goods."
Other people who have been helping the relief effort also said refugees had become ungrateful in recent months.
Sastroy told the Globe this attitude may lead to unrest among evacuees, many of who have been living in poor conditions for up to five months. "Those accusations will only give rise to social upheaval. No one feels comfortable at the shelters," he said.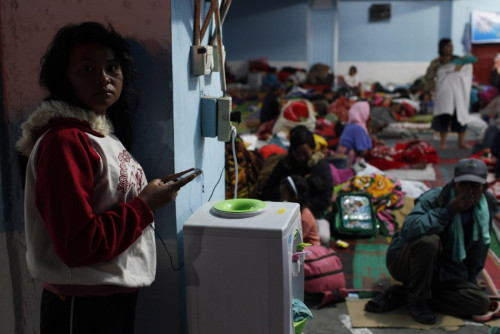 Sastroy also said the government could be seen as trying to deflect criticism that it was not doing enough to help those affected by the volcano.
"The people of Karo do not have the mentality of beggars. It is a big mistake [to say] the evacuees are reluctant to return home because they are lulled by the free aid they have received. It is best that the government issue a correction to that statement. The victims are very disappointed at the government."
Agustinus Purba, an evacuation volunteer, echoed his statement: "This can be seen from the way some of them don't reply when greeted. They look like they're deep in thought thinking about their fate, because their fields are damaged and their children's education has been disrupted. Evacuees are very devastated by the disaster."
Meanwhile, officials confirmed the death toll from the volcano has risen to 16 following an eruption over the weekend.
Indonesia's Antara news agency also noted that the National Disaster Mitigation Agency has said the increased activity at the volcano cannot be declared a national emergency because it has not yet claimed 500 lives.
"According to the Presidential Decree draft, a disaster can be categorised as a national disaster if it causes more than 500 deaths, more than Rp1 trillion (£50m) worth of loss and affects several districts in more than one province such that the provincial and district administration cannot mitigate the disaster," Sutopo said in a statement.