Over 17,000 people have now been evacuated from villages surrounding Mount Sinabung in Indonesia as the volcano continues to erupt.
The volcano, which has become increasingly active since September, erupted six more times earlier this week after the government raised the alert to the highest level.
People ran for safety after powerful bursts sent hot ash, gravel and smoke two kilometres into the air.
Jatah Surbakti, a 45-year-old farmer who fled Sinabung, said: "Everything turned hot surrounding us. We were running in panic under the rain of ash and gravel ... I heard many women and children screaming and crying."
According to the Jakarta Post, 17,713 people have now been displaced by the volcano and are staying at 31 evacuation camps set up across four districts in the Karo regency.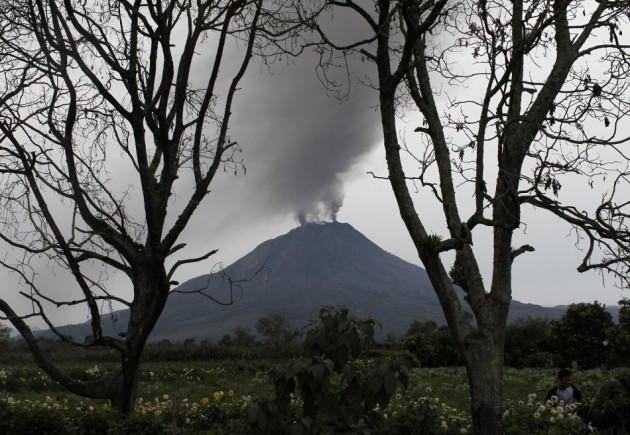 However, this number does not include the 220 who have taken refuge in the Langkat regency, which is closer than many of the camps set up in Karo. People there are becoming increasingly desperate for food and emergency supplies, as no aid from the Karo district has arrived.
Berliana Ginting, 42, a displaced resident from Kuta Rakyat village, told the newspaper: "We are threatened with starvation because the disaster aid we have received will only last until tomorrow [Wednesday], while the number of evacuees here continues to increase."
Since the start of the week, the people displaced in Langkat have only received 15 sacks of rice and 25 boxes of instant noodles.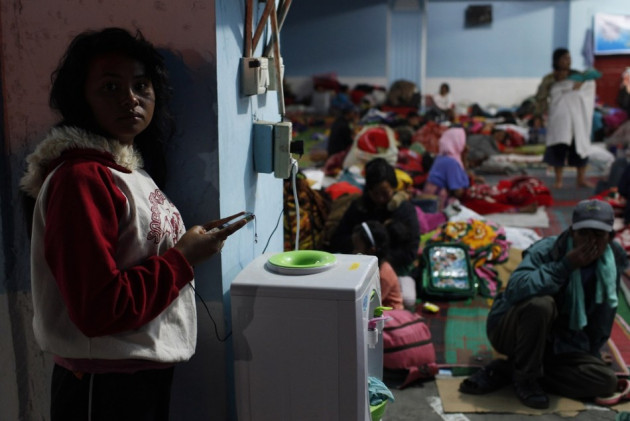 Briliant Mokhtar, a member of the Karo Legislative Council, said the Karo administration must send aid to Langkat immediately, as more refugees head to Langkat.
It is unclear when those displaced by the volcano will be able to return home.
Experts are unsure of what to expect from Sinabung which appears to have briefly erupted for the first time on record in 2010. This was followed by eruptions in August and September which killed two people.
Volcanologist Rebecca Williams, of the University of Hull, told IBTimes UK: "The last time [Sinabung] erupted was 2010 and that didn't go on for very long. Before then, we really don't know. There are rumours of an eruption in 1881 but that's uncertain as there's no good evidence. We really don't know what it's going to do.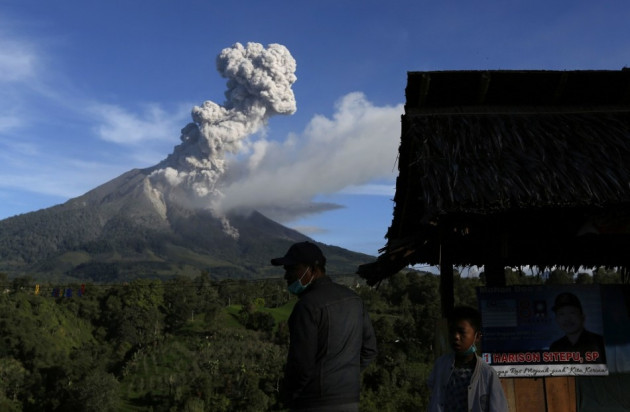 "Explosive eruptions only tend to go on for a couple of weeks to a couple of months.
"It's on the highest alert level and is concerning for people in the nearby area. Because we don't know much about its eruptive history, we don't really have a good idea of what types of eruptions it has.
"There have been reports of pyroclastic flows, which are currents of hot ash and rocks that travel down the side of the volcano and can be very dangerous. They are responsible for most of the deaths from volcanic eruptions.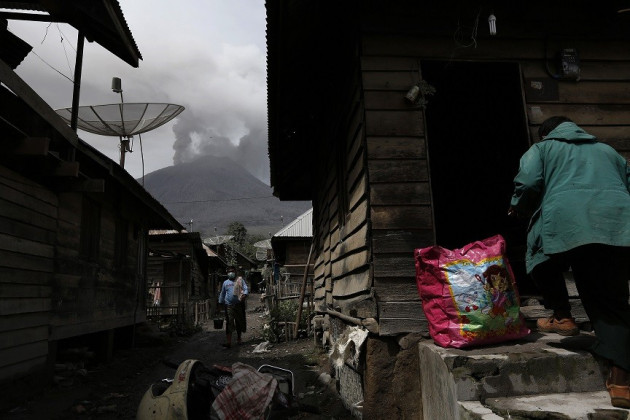 "We know Sinabung is capable of producing them but we don't know if it will produce really big ones that can travel a long way."
David Pyle, a volcanologist and professor of earth sciences at Oxford, added that Sinabung is an interesting example of a volcano as, like most, it only becomes a priority for experts when it comes to life.
He said: "There are many volcanoes like Sinabung that have the potential to erupt again and will erupt again, but the resources are only diverted once they start to show activity.
"It's probably going to show the same sort of eruption behaviour that you see at many of these Indonesian volcanoes where they tend to have explosive phase of activity then quieter phases."
Read more:
Seven Volcanoes in Six Countries Erupt within Hours - But no Sign of Doomsday
Indonesia: Mount Sinabung and Mount Merapi Eruptions Spark Mass Evacuation
Mount Sinabung: Alert Raised to Highest Level as Indonesia Volcano Erupts Nine Times [PHOTOS + VIDEO]
Mount Sinabung: Sumatra Volcano Erupts Again as Thousands Flee Homes [PHOTOS]
Indonesia: Mount Sinabung Records Biggest Ever Volcanic Eruption Spewing Lava and Ash up to 10km Into Air [PHOTOS]