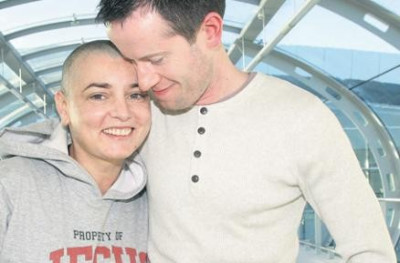 It seems that finding lasting love when you are rich and famous is harder than findinf water in a desert. Celebrities are now prepared to getting hitched three, five or even more 10 times to find their soul mate.
Singer Sinead O'Connor is no exception. She has walked down the aisle for the fourth time in a Las Vegas ceremony.
The Nothing Compares To You singer marked her 45th birthday yesterday by getting hitched to her boyfriend Barry Herridge in the untraditional wedding.
The 90's star meet the 38-year-old therapist Herridge this summer after she advertised for a man on Twitter in August.
The couple's 'drive-thru' nuptials were held at a chapel in Nevada and she reportedly sat in a Cadillac for the duration of the ceremony.
Shortly after the wedding, she posted a message on her blog describing the ceremony as "Too glorious for words"
O'Connor divorced long-time friend and collaborator Steve Cooney in April this year just after eight months together.
She has also get married to music producer John Reynolds in 1989 and journalist Nicholas Sommerlad in 2001.
But Sinead isn't alone in her search for Mr Right, other celebrities have made that trip more than a few times too.
Here we have a look at just some of those unlucky in love celebrities...