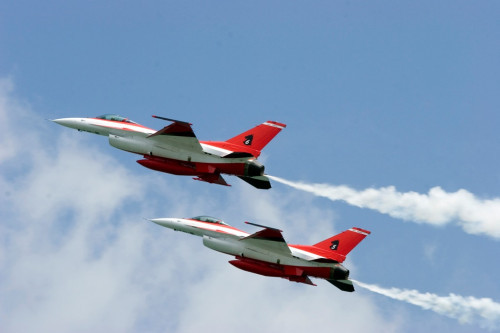 Over a 150 US companies are participating in this week's Singapore Airshow.
Asia's largest air show kicks-off on 11 February and organisers hope to close deals worth $25bn (£15.2bn, €18.3bn) over the course of six days, according to reports.
The air show will also have a large defence side to it.
Singapore operates the biggest air force in Southeast Asia. The city-state, whose per-capita GDP exceeds that of the US and Germany, regularly allocates about 20% of national spending to defence.
Driven by a need to maintain its technological edge, Singapore is planning a number of high-profile defence procurement programs, IHS Jane said in a report last month.
The nation's "favored supplier is the US, which has supplied around half of [Singapore's] military imports over the past decade," IHS Jane added. Singapore is the only Southeast Asian country that has not bought military hardware from Russia or China.
"There's a saying that the stronger you are, the less enemies you have, and I think that's true," Singapore Defence Minister Ng Eng He was quoted as saying at a National University of Singapore forum in January.
"Compared to five-to-eight years ago, I have a less tough job of convincing people that we are vulnerable. Particularly because over the last five years, our region has changed," the minister added.
Geopolitical tensions in the East China Sea and the South China Sea have also fuelled a heightened sense of defence-preparedness in Singapore, a major trading hub. In 2013, the government agreed to purchase two new Type 218SG attack submarines from Germany's ThyseenKrupp Marine Systems.
Singapore, a city-state smaller than London, set aside $12bn of its budget towards national defence in 2013.
By comparison, neighbouring Indonesia, Southeast Asia's largest economy, allocated $7.9bn to defence spending in August 2013.
Founded as a British trading colony in 1819, Singapore was the world's fifth-largest arms importer between 2008 and 2012, according to the Stockholm International Peace Research Institute.