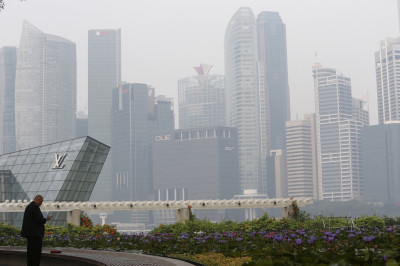 School were shut in Singapore as the city state was engulfed by a thick haze from forest fires in Indonesia that sent pollution levels sky-high.
Inhabitants of the south-east Asian nations donned anti-pollution masks for a second day, some handed out free by the authorities to elderly and vulnerable people, as the Pollutant Standards Index (PSI) reached its highest level for the year touching 341 on 25 September, well above the hazardous mark of 300.
The remerging of the chronic problem sparked anger in Singapore. Haze poses a serious health hazard, and it can cause other discomforts such as itchy eyes for people with breathing problems.
Singaporean foreign minister K Shanmugam took to Facebook to criticise the Indonesian government. He wrote: "The Singapore government takes the matter seriously. We stand ready to assist Indonesia in combatting the fires.
"The Indonesian government has said that it is taking steps to deal with the problem. We hope those steps will lead to lasting outcomes, and we are prepared with work with Indonesia on this. Yet at the same time, we are hearing some shocking statements made, at senior levels, from Indonesia, with a complete disregard for our people, and their own."
Shanmugam was possibly referring to Indonesian vice president Jusuf Kalla, who was recently quoted as saying that that neighbouring countries should be thankful for they "already enjoy 11 months of clean fresh air".
The haze is caused by illegal forest burnings in the islands of Sumatra and Borneo, designed to clear land for profitable palm oil plantations and farming. Two years ago, pollution levels in Singapore reached a record of level of 371, in what was then described as the worst haze that Singapore had ever faced.