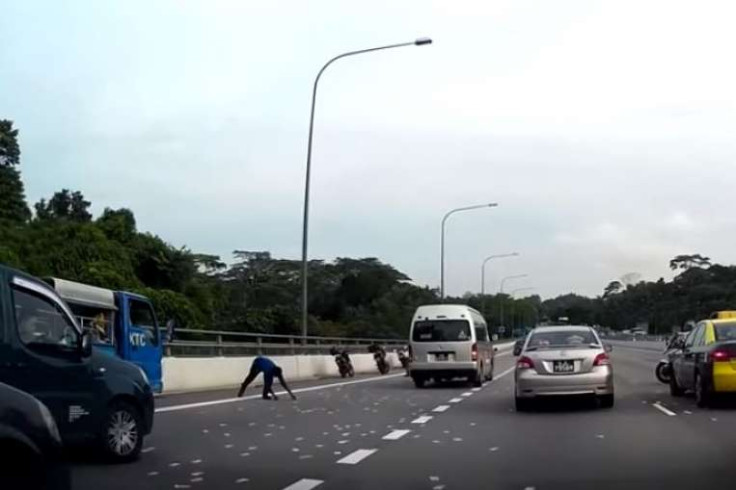 One could have mistaken the scene from a movie set. Motorists on Singapore's Bukit Timah Expressway had a rare treat on Monday (3 August) when they spotted £24,700 worth of notes strewn over the road.
A YouTube video uploaded by the Singapore Reckless Drivers Community showed several motorcycles and vehicles parked on the left road shoulder as motorists rushed to grab as much money as they could.
The Straits Times said cars filtering in from the left onto the motorway were forced to slowdown to avoid hitting the motorists rushing to grab the Malaysian ringgit notes strewn on the road.
Administrative assistant Annie told a local Chinese newspaper Lianhe Wanbao that she was passing by on a double-decker public bus when she say the notes flying in the air.
She said some passengers asked the bus driver to stop so they could alight to pick up some of the money but he refused to do so.
Another motorist told Shin Min Daily News that he thought the flying notes were just pieces of paper. However when he slowed down to take a closer look, he realised it was a money.
The Straits Times said the money belonged to a Malaysian moneychanger who was on his way to meet a client in Orchard Road in Singapore. He did not realise that the bag with the money on it was not zipped up, resulting in the notes being blown out onto the motorway.
By the time, the 24-year-old retraced his route, he only managed to find a £10 note on the motorway.