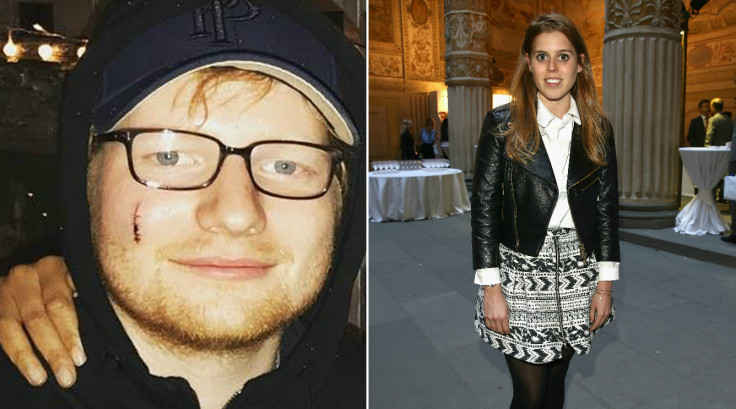 Ed Sheeran has finally opened up about an alleged sword incident with Princess Beatrice which left him needing stitches.
While he has claimed until now that he was not permitted to speak about the accident which occurred during a party at the princess' home, in an interview with Absolute Radio the 25-year-old said his shirt was "covered in blood".
"I got hit in the face and I was like, all right, OK, and then started carrying on and then I looked down at my shirt and it was just completely covered in blood," he revealed. "And everyone was kind of gaping open-mouthed at me. What have I got a nosebleed or something? What's happened?"
While the singer refrained from naming the person who was wielding the sword, the incident happened at a party in November at the Royal Lodge in Windsor, after You're Beautiful singer, James Blunt, 42, joked that he would love to be made a Sir.
It is alleged that Princess Beatrice, 28, swung the sword over her shoulder while pretending to "knight" Blunt, unaware that Sheeran was standing behind her.
The Shape of You singer told DJ Andy Bush: "James Blunt would like me to tell everyone that it was him and he was trying to reclaim his pop career by killing me."
The singer needed stitches and was left with a scar on his right cheek. A source was quoted as saying that there were about 20 guests at the party, adding: "Apparently, James Blunt joked that he would love a knighthood. Beatrice jokingly said she could arrange it and fetched a ceremonial sword. James played along with the prank and got down on one knee.
"Beatrice, who was in great form, held the sword above him and said "arise Sir James". But she must have misjudged the weight or something and, instead of lightly tapping him on the shoulder, she swung it back, not knowing Ed was standing right behind her."
A source told The Sun that Princess Beatrice was "inconsolable" as Sheeran was taken to hospital to receive stitches for the gash on his face.
The insider added: "A couple of the guests said it could have been worse and he could have been blinded in the eye but Ed really played it down.
"Everyone was totally shocked and apparently Beatrice was very upset, But Ed was the perfect gentleman and told her it was just an accident."
Sheeran, who was photographed with a fan after the incident returned to the party, which he is said to have attended with his girlfriend, Cherry Seaborn.
The Thinking Out Loud hitmaker went ahead with a gig the next day at London's O2 Shepherds Bush Empire with the cut still visible prompting speculation about what may have caused the scar.
Spokesmen for Buckingham Palace, Blunt and Sheeran have declined to comment on the incident according to Mail Online.