Meet Tamut. A female temple singer from ancient Egypt who has lain undisturbed for almost 3,000 years.
In a first-of-its-kind exhibition, entitled Ancient Lives, New Discoveries, at the British Museum – she is one of eight mummies whose secrets have been unwrapped thanks to advances in ground-breaking technology.
Remarkable 3D images of the mummies have been created through the use of new generation CT scanners, normally used in hospitals, allowing researchers to look through bandages and inside mummy cases that have never been opened.
The electronic excavations have revealed Tamut lived in Thebes in 900BC and received the highest level of mummification during this period, with amulets and other magical jewels buried with her. She also had artificial eyes to allow her to see in the afterlife and had thin plates of gold on her finger.
She was at least 35 years old when she died after scientists examined her pelvis. Scans also suggested she suffered from extensive plaque in her arteries, which could have triggered a heart attack or stroke. Inscriptions on the casket say she was a "chantress", or singer, for the god Amun, probably at the Temple of Karnak.
John Taylor, assistant keeper of the museum's Department of Ancient Egypt and Sudan, said: "I personally think Tamut is the star of the show. She has such a wonderful array of objects inside her case, we have the inscriptions saying all about her life. We have her name, what she really did.
"We can show objects and say this is the kind of thing she would have held that brings you very close to these ancient people in a way that nothing else could do."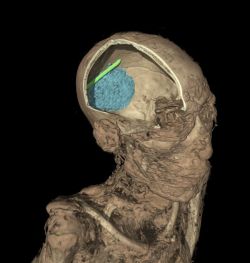 Another striking image shows a spatula had been left lodged inside the skull of a man after it had been used to scoop out its brains. The body of the unknown man, from Thebes, is believed to be have been mummified around 600BC.
Visitors will encounter each of the eight mummies with large 3D visualisations, thanks to software originally designed for car engineering, taking them on a journey into the body, through the skin to reveal organs, skeleton and the secrets of mummification.
Neil MacGregor, Director of the British Museum said: "This new technology is truly ground-breaking, allowing us to reconstruct and understand the lives of these eight, very different, individuals."
The first mummy entered the British Museum's collection in 1756 but for the past 200 years none have been unwrapped, making the advances in technology critical to improving their understanding of how ancient cultures developed, a museum spokesman added.
The exhibition will open on May 22 to November 30.