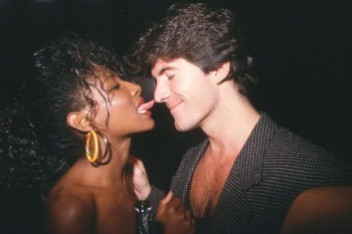 Sinitta has revealed that Simon Cowell supported her decision to abort his child.
The former pop star, who felt betrayed when she first found out that Cowell was to be a father with 36-year-old Lauren Silverman, described her termination as 'heartbreaking'.,
In a candid interview with The Sun, Sinitta said that she fell pregnant in the 1980s but the couple, who were in their early 20s, decided that they were too young to start a family.
She also said that due to health reasons she knew she would not be able to carry a child 'full term'.
"Simon was very concerned and by my side. It was upsetting and it was something very difficult that we dealt with together," she said.
According to Sinitta, she dealt with her loss by getting a puppy, but that she still longed to have a child with the media mogu, lwho she dated on and off for 20 years,
"I have always admitted I wanted to marry him and have children with him - not just because I love him, but because I thought it would be good for him," she said.
Although she went on to adopt Magdalena, eight, and Zac, seven, with her ex-husband Andy Willner, she always felt a deep connection with her former flame.
So when Cowell, who pledged to her he never wanted a child, broke the news he would become a father, she admits she was knocked for six.
"I was stunned and taken aback, surprised. I was worried about him because he never wanted to have kids and now this was happening. I thought it was a problem initially," she said.
"She's in love with him, and he's in love with her. I'm happy for them and I mean that."
Sinitta's revelation come days after it was claimed that she fighting to be named the baby's godmother in a bid to stay close to Cowell.
"Simon is such a huge part of Sinitta's life, she hates the idea of losing him to Lauren," a source said.