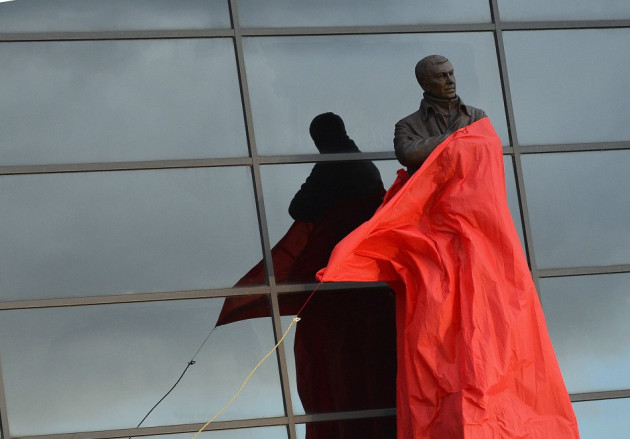 A nine-foot bronze statue of Sir Alex Ferguson has been unveiled outside Old Trafford to mark his 26-year reign as Manchester United manager.
Former United superstars such as Eric Cantona, Bryan Robson, Sir Bobby Charlton and Ole Gunnar Solskjaer were present at the unveiling ceremony, along with the entire current playing squad. David Beckham joined the congratulations via videolink.
The statue was unveiled by Ferguson's wife Lady Cathy, described as "his greatest support".
Ferguson said: "Normally people die before they see their statue. I'm outliving death.
He added: "I've had an incredible journey at the club and I've had so many great players, some of whom are here today.
"They should build this statue for them all, because they've been absolutely marvellous.
"From 1986 right through to today, the players have given us enormous pleasure.
"Everyone has had a part to play, from the players to the coaching staff, medical staff and, of course, the fans."
Beckham, who rose through the United youth academy to win six titles under Ferguson before moving to Real Madrid in 2003, described him as a "born winner".
Beckham added: "He knows how to win games, how to handle pressure and how to look after his team and his players.
"Playing under him for the years that I did, well - he was like a father figure to me. I moved up from London to Manchester and he always said to me, 'If you've got any worries, come and knock on my door - it's always open'."
"I was scared to go and knock on his door because of who he is but he always made me feel as if I was part of a family."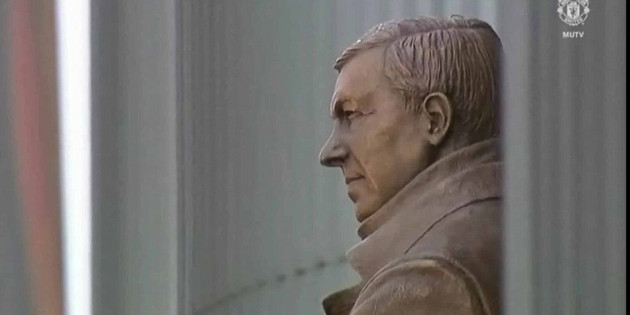 Ferguson now joins Sir Matt Busby and the 'holy trinity' of Sir Bobby Charlton, George Best and Denis Law on the list of former United legends who have been immortalised with a statue at Old Trafford.
Last year the Old Trafford north stand was renamed in his honour to mark his 25th anniversary.
During his 26 years at United, Ferguson has won 12 Premier League titles, two Champions League trophies, five FA cups and four League Cups, making him the most successful British manager of all time.