Manchester United manager Sir Alex Ferguson has again urged supporters not to sing about the Hillsborough disaster during the forthcoming Premier League clash against Liverpool at Anfield.
Following a week in which the families of the 96 Liverpool supporters who died at Hillsborough learned the details behind the disaster, United fans were condemned for singing songs mocking the fallen against Wigan Athletic at Old Trafford.
Ahead of the first game at Anfield since the puiblication of an independent report into the disaster, Ferguson has attempted to cool tensions between the two clubs, which reached a new peak after Liverpool striker Luis Suarez was banned for racially abusing United's Patrice Evra last season.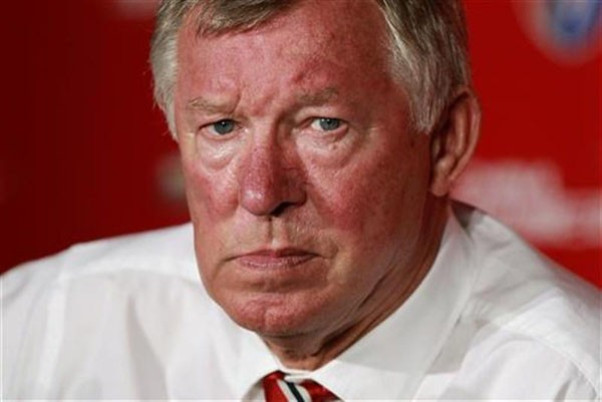 "I didn't hear it [the chants at the Wigan game], but everyone else seemed to hear it," Ferguson said. "David Gill heard it in the directors' box and was disappointed.
"The chant is a new chant. It only started after the Suarez situation.
"But in the current climate and having spoken on Friday, asking our supporters to adhere to the policy that we want to adopt - that we're completely in support of Liverpool Football Club at this moment in time and we understand what those families must have felt during the week when they got that report - it was disappointing to hear that.
"It's a minority, though, and in society there's a minority who want to be heard. That's the difficultly you've got nowadays.
"As a club we're totally in support of Liverpool and the situation they're in. It's going to be a very emotional day on Sunday and we'll support them in every way we can."
Prior to United's opening Champions League game against Galatasaray, Ferguson has said that goalkeepers David de Gea and Anders Lindegaard will be rotated throughout the season.
De Gea began the season as No.1, but an error against Fulham saw Lindegaard selected for the trip to Southampton and the home game with Wigan.
With the club's European and domestic cup campaigns about to start, Ferguson says he wishes to give both goalkeepers regular opportunities in the first team.
"The most important thing I'm trying to do is give both of them experience in the English game," Ferguson added. "Neither is as experienced as Edwin van der Sar or Peter Schmeichel.
"Alternating isn't a problem for me. They're both equally very good goalkeepers. That's the policy we've adopted this season and last season, although De Gea played most of last season after Lindegaard was injured. I'm comfortable with this situation."