The sister of disgraced footballer Adam Johnson has posted a message on Twitter hinting that her brother will soon be released from prison.
Faye Johnson wrote "not long till we have him home where he belongs", followed by a loveheart emoji.
She accompanied her tweet with a photograph of her brother holding her smiling son Lucas.
The England and Sunderland winger was sentenced to six years in prison after a jury found him guilty in March 2016 of sexual activity with a 15-year-old schoolgirl he groomed online.
Johnson had met the Sunderland fan in his Range Rover after meeting outside the Stadium of Light following seedy text messages swapped by the pair.
At the time of his arrest he was earning £60,000 a week playing for the north-east club, but he was sacked by the Black Cats a month before his trial when the footballer pleaded guilty to the charge ahead of his court appearance.
The former midfielder has so far served one year and seven months of his sentence, and is currently behind bars at Moorland Prison in Yorkshire. It is common for prisoners with a record of good behaviour to serve half their sentence, which in Johnson's case would be three years.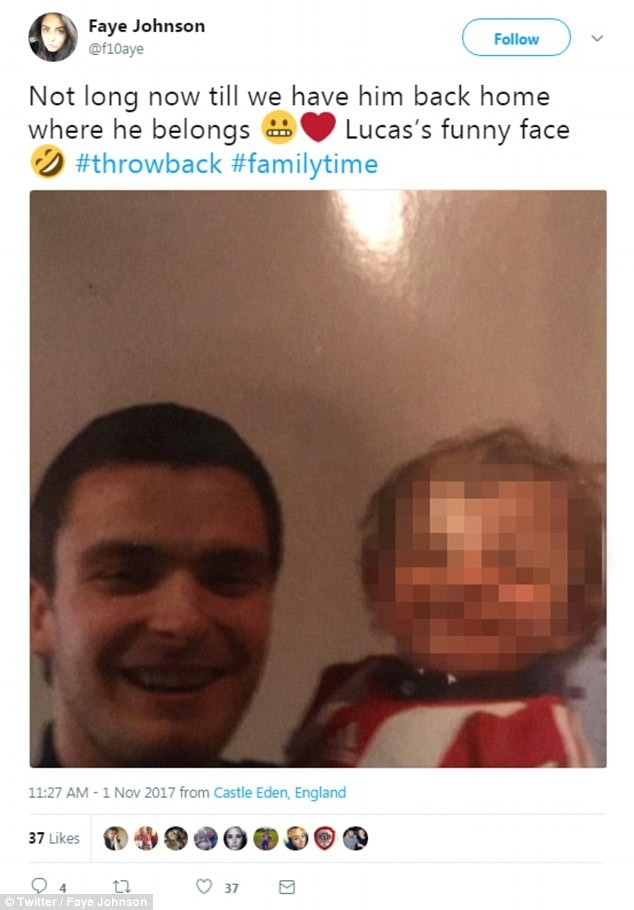 Johnson's family have stood by him, and his sister has previously urged supporters to change their Facebook profile pictures to one of her brother and his daughter, with a slogan of his innocence.
But his case was heard before the Court of Appeal on 16 March of this year, and was dismissed by three judges.
The 29-year-old footballer was briefly moved into solitary confinement for his safety in April after he was caught on camera telling inmates he "wished he raped his victim".
But at his trial he told the jury he was "ashamed" of what he had done and that his "behaviour was wholly unacceptable".
Johnson was told that a group of inmates in the Yorkshire jail were planning to slit his throat with a makeshift knife following his recorded comments.
Johnson's ex-girlfriend Stacey Flounders, is reportedly "struggling to get by" say pals.
Flounders stood by the former England player during his trial for child sex offences before his conviction. But the couple split around the time of the trial and friends have said the 27-year-old is struggling to make ends meet.
Last month she began working 16 hours a week as an account manager for the Evolve Group in Sunderland, a IT data firm, while topping up her income with tax credits, reported The Daily Star.