Protesters demanding increased government funding for domestic violence services have blocked bridges across the UK on 20 November ahead of Chancellor Phillip Hammond's Autumn Statement on the budget on Wednesday (23 November).
Around 600 women marched in London, Bristol, Newcastle and Glasgow to draw attention to the need for funding to specialist domestic violence services who support women of colour, migrants, disabled and LGBT who have endured physical abuse.
The protest was organised by feminist campaigners Sisters Uncut, known for disruptive actions denouncing the impact of austerity policies on the lives of survivors of sexual violence and abuse.
In London, a few hundred activists gathered in Trafalgar Square, where they read out the names of the victims of domestic abuse who lost their lives in 2016, before marching down the Strand towards Waterloo bridge, where they blocked traffic for around 20 minutes.
According to Sisters Uncut, Prime Minister Theresa May is "blocking migrant domestic violence survivors' bridges to safety" by refusing them access to support services.
"We are blocking bridges across the UK today as a metaphor for the fact that bridges to safety have been blocked by the Tory government, that women are isolated, women have no routes to safe. This is a crisis and we need an urgent intervention," Jami, a member of Sisters Uncut told IBTimes UK.
Local authorities facing government-mandated cuts to their budgets have reduced funding to domestic violence services, which have forced some women refuges to shut down. The Wearside Women in Need charity in Sunderland is one of the service providers at risk.
Sisters Uncut denounced the Sunderland Council for "slashing funding for domestic violence services in the city to zero from 2017" and asked the local community to participate in the public consultation to defend women refuges.
In November, the Prime Minister pledged £20m ($24.7m) to services supporting domestic violence survivors, but Sisters Uncut criticised the proposal, which would see local councils bidding for a share of the funds to provide accommodation-based support in partnership with local charities, as a "sticking plaster".
"We demand that all the funding that was cut over the past six years is restored. We are disrupting today because we need the government to know we are here and what they have offered is not enough. We are going to escalating our direct action as long as they keep escalating their violence," Petra from Sisters Uncut told IBTimes UK.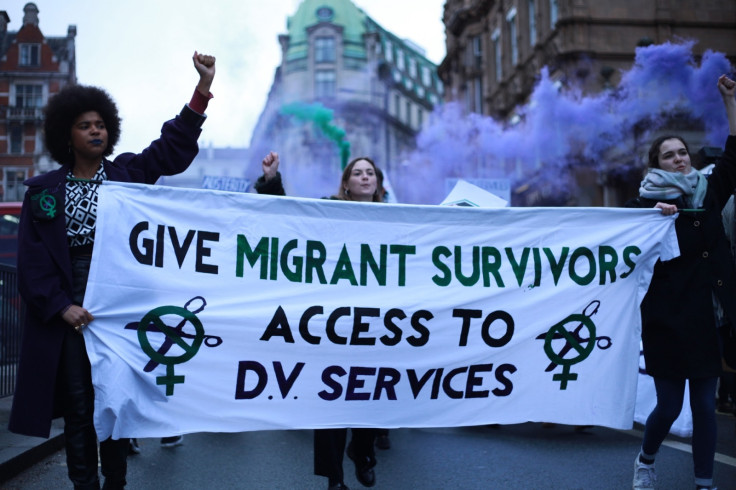 Along the march, women carried smoke flares in green and purple colours, a reference to the Suffragettes' movement that was characterised by the colours green, purple and white. Sister Uncut said they paid homage the women who paved the way for other women's political participation, but that they replaced white with black to symbolise the focus on the condition of women from black and minority ethnicities (BME).
Marcia Smith, a domestic violence survivor from Doncaster who attended the Newcastle action, said: "When I went to the police with bruises, they said they couldn't see my bruises because I was black. People don't see black women as victims, and we get racism instead of help. With black services, you don't have racism, you have the trust and support you need."
Research from the Women's Aid organisation showed that two out of three women who approach refuges for help are now being turned away, usually due to lack of space. For BME women, that figure rises to four in five.
A report by Imkaan, the only UK-based organisation dedicated to addressing violence against BME women, showed that 9 in 10 BME survivors prefer to receive support from a specialist BME organisation.
"Survivors of violence have already been through so much and they need to trust the people they work with and specialist services can provide that, whether it is cultural knowledge, language, understanding of the needs and challenges faced by certain communities," explained Khalifa from Sisters Uncut.
Protesters also carried banners referencing the benefit caps, which reduce the income households receive in certain benefits per year from £26,000 to £20,000.
While the government said the reduction is meant to encourage benefit recipients to find employment, charities, campaigners and unions say the cap will have a negative impact on single parents and on women who are financially dependent on their partners and may be further discouraged from fleeing domestic abuse.
"Austerity makes life more dangerous for those facing domestic violence. The benefit cap, which limits income and predominantly affects people of colour, makes it harder to escape," Sisters Uncut said.
In 2012, the UK signed the Council of Europe's Istanbul Convention on preventing and combating violence against women and domestic violence. Countries that abide by the convention are required to allocate "appropriate financial and human resources" to combat violence and abuse, as well as making sure there are no undue financial burdens on survivors.
The UK has yet to ratify the convention, despite 24 countries including Turkey, France and Italy having done so already. The bill received a first reading in the House of Commons on 29 September 2016 and is expected to receive a second reading on 16 December, suggesting the convention will not be ratified until at least 2017.