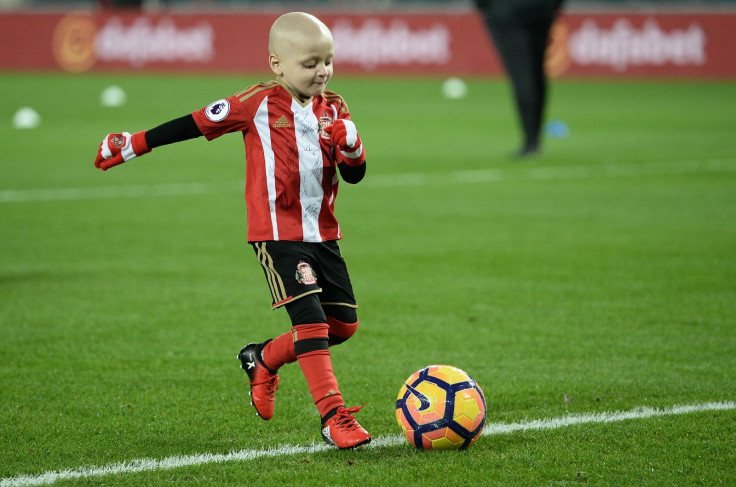 A six-year-old football fan who has moved the world in his fight against a rare form of cancer has only a few weeks left to live, his mother said in an emotional Facebook post. Bradley Lowery, from Blackhall Colliery in County Durham, has been fighting against neuroblastoma for years.
The news was delivered to Bradley's family after a chest X-ray confirmed the child, a Sunderland AFC fan, had lower levels of oxygen because his tumours have grown at a rapid rate, obstructing his lungs.
"The results were devastating, all of Bradley's tumours have grown really fast. The reason his oxygen levels are low is because there isn't much room in his lungs now.
"I was told Bradley has now only got weeks to live because of how rapid the cancer is spreading," his mother wrote on the 'Bradley Lowery's Fight Against Neuroblastoma' Facebook page.
"Yes I knew this was coming but I thought it was going to be months not weeks. My heart is broken in two, it is too soon for this to happen, it should never be happening to start with.
"My baby has had to put up with so much over the past 4 years and now he has to suffer a painful death. How is that fair??? Why should any parent have to be put through this heart ache???"
Bradley was diagnosed with the rare form of neuroblastoma in 2013. His family has tried to raise money for treatment not available in the UK.
Bradley appeared as a mascot for Sunderland and became friend with the team's striker Jermain Defoe, who also visited him in hospital.
He was also invited to be a mascot for Everton when the Merseyside team played against Manchester City in January.