A video has been released purporting to show the moment an Irish backpacker skydived from a plane whilst talking on Skype with his parents. Roger Ryan, from Louth in Ireland, can be seen talking with his mum and dad over the video chat service before suddenly announcing, "OK, I'm going to jump out of an aeroplane now".
He then proceeds to get up and conduct a tandem skydive with an instructor, leaping out of the plane and leading to a foul-mouthed reaction from his parents. As Ryan freefalls towards the ground, his mum can be seen exlaiming "Oh no, he's jumping out of an aeroplane. Good God. Holy S**t". His dad meanwhile shouts: "You idiot. He's doing a selfie coming down in a f**king aeroplane. I would not have thought that was f**king possible".
The video, filmed in Australia, was published online by Hostelworld.com, a hostel-focused online booking platform. They explained: "We went to Bounce Hostel in Sydney to seek out travellers with an adventurous streak. Roger, originally from Ireland, whilst on a trip around the world, jumped (literally) at the chance to take part in a 14,000 foot skydive with a twist!"
"We all know it's normal to call your parents whilst travelling, usually from the comfort of a hostel or café. But why not share your travel adventures with them first hand? This is exactly what Roger did. Moments after his plane started its ascent, his parents Pat and Mary received an unexpected call from their son. Watch the fun unfold here...#MeetTheWorld".
The video has gone viral since being published on YouTube on 17 December, being viewed over 500,000 times.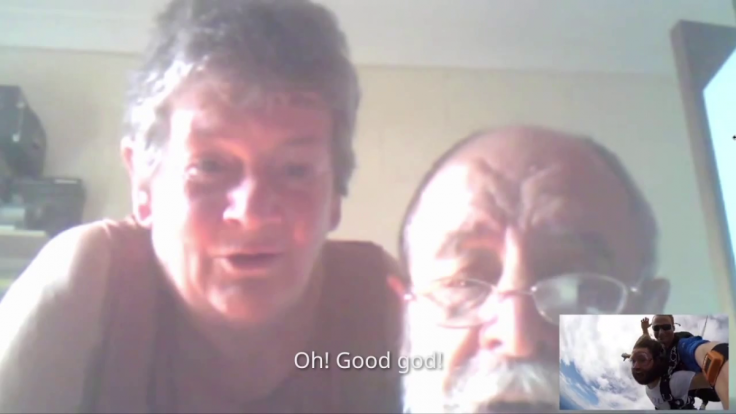 However some on social media have stated their skepticism that such a live video conversation could even take place, let alone in such good quality, whilst someone is skydiving out of a plane.
"A Go Pro cant Skype ... FAKE, said one YouTube commenter. "What's that bloody camera of the skype? It seems like 4K 60 fps omfg lol," another noted.
One YouTube comment observed, "This is obviously a prerecorded video played over Skype and another viral advert that everyone will mindlessly share".
HostelWorld have not responded to IBTimes UK's request for a comment on whether the video was genuine or staged.